Inspired by all the leaves that are emerging from the trees outside my window, I painted my nails green!
De knoppen aan de boom buiten mijn raam lijken per minuut verder open te gaan. Elke keer als ik op kijk zijn ze iets groter en iets groener. Tijd voor groen dus! Ik kon niet kiezen en ging voor twee vrolijke groene kleurtjes, mijn favoriete grijs en een beetje glitter. Omdat het kan ;)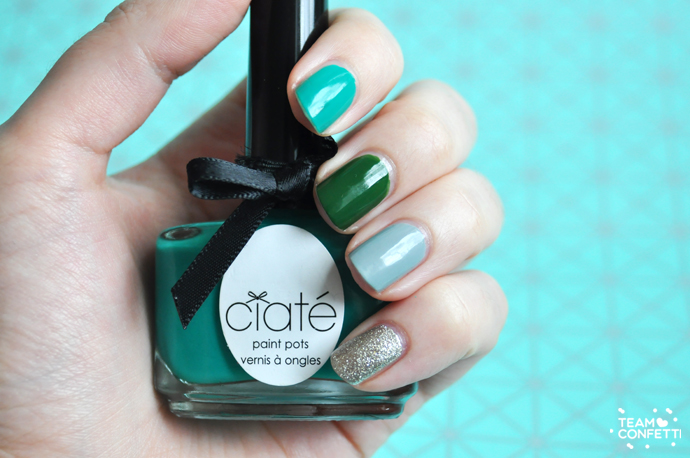 Ciaté 069 ditch the heels.
Op mijn wijsvinger lakte ik mijn enige lakje van Ciaté: ditch the heels. Dekt met twee laagjes, lakt fijn en heeft een kwastje dat makkelijk in gebruik is. En het flesje heeft een strikje! Cute!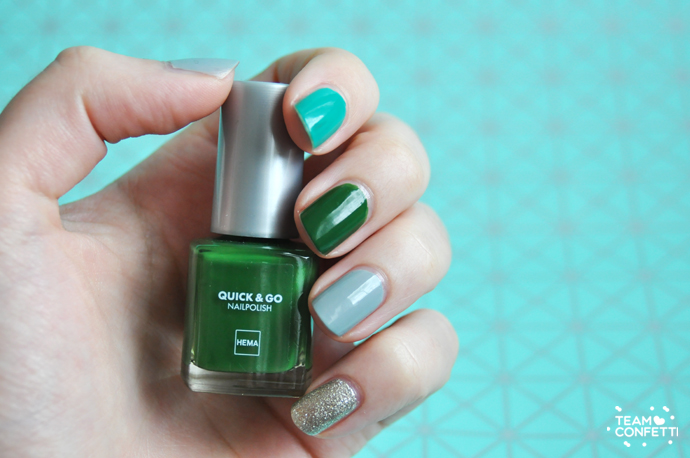 Hema 15 Hurry Green.
Op mijn middelvinger prijkt dit mosgroene lakje van Hema. Lakt prima, maar is een beetje streperig en heeft daarom drie laagjes nodig voordat hij helemaal effen is. Wel een mooie kleur :)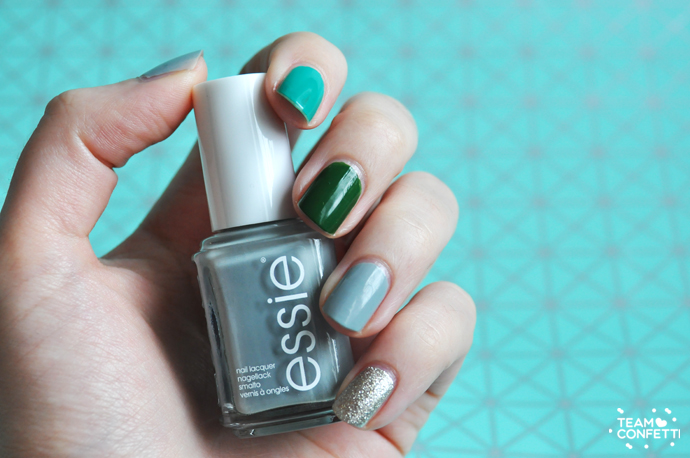 Essie 252 Maximillian strasse her.
Op mijn ringvinger een koel grijs lakje dat ik erg mooi bij de eerste twee groene vind staan: Essie's
Maximillian strasse her. Een van mijn favoriete lakjes van Essie, dekt goed, blijft lang zitten en het is een hele mooie neutrale kleur die goed met andere kleuren of glitters combineert.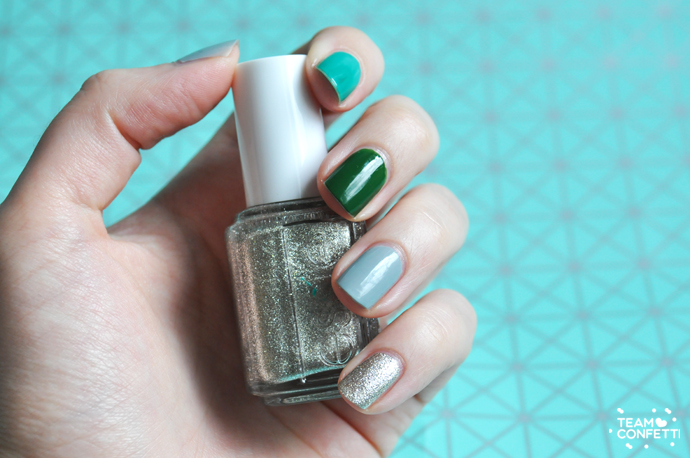 Essie 243 Beyond cozy.
Op mijn pink zit Beyond Cozy (ja, die had ik vorige week ook al op) te shinen. De kleur zit tussen zilver en goud in, het is maar net waar je hem naast zet. Dekt na twee laagjes, ook echt een hele fijne aanwinst. Ik zag tijdens het foto's maken dat er een beetje groen op het flesje terecht is gekomen, haha. Lekker kliederen :)
***
Elke nagel een andere kleur, yay or nay?
Different colors on your nails, yay or nay?
***
Essie nagellakken kosten €9,99 en zijn verkrijgbaar bij de meeste filialen van Etos en DA. Beyond Cozy zat in een kerstcollectie van een paar jaar geleden, dus is helaas niet meer verkrijgbaar.
De Quick & Go nagellakjes van Hema kosten €1,95 en zijn in de winkel en online te koop.
Ciaté is te koop bij een paar Bijenkorf filialen. Verder zijn ze makkelijk online te verkrijgen. Ciaté kost €9.99 per potje.