It's that time of the year again! De Lush winter collectie is hier! En ik kan er echt niet omheen, want de allergrootste Lush doos ooit werd vorige week bij mij bezorgd. 'Oh! Je ruikt het erdoorheen!' riep ik enthousiast tegen de postbode. De man vertrok geen spier en vroeg om een digitale krabbel. Maar no way dat ik daar minder enthousiast van werd. Als een kind op Sinterklaasavond pakte ik het pakketje uit en vandaag laat ik zien wat voor mooie dingen Lush dit jaar in de collectie heeft!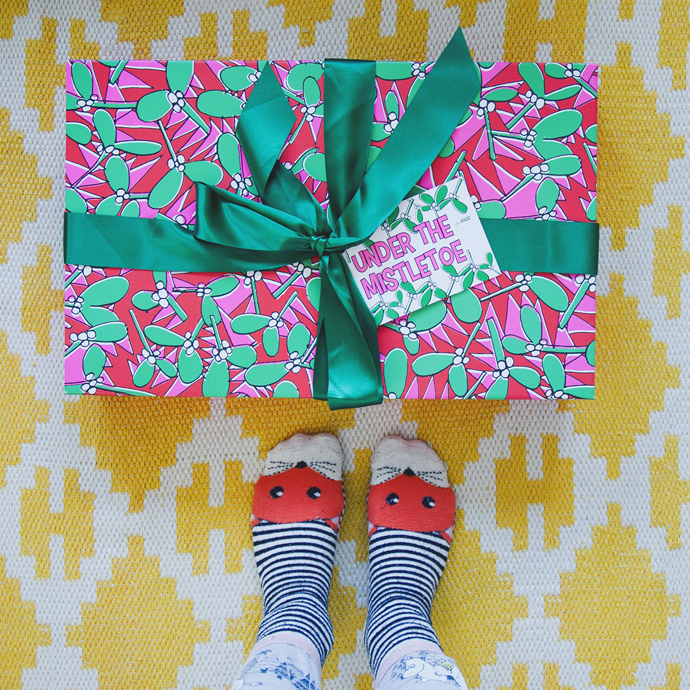 De producten in deze mega box of fun kun je los kopen, maar de box zelf (Under The Mistletoe) is ook te koop in zijn geheel. Je bent dan all set voor de rest van de winter. ;)
Luxury Lush Pud / So White / Sex Bomb (bath bombs)
Er zitten errrrg veel badproducten in deze box en dat is in de winter ook wel logisch. Vooral nu het buiten steeds frisser wordt en eerder donker is, is er niks fijner dan de boel de boel te laten en een duik te nemen in een heerlijk geurend Lush bad. De Luxury Lush Pud is mijn favoriete bath bomb of all time (vorig jaar heb ik er ook meerdere versleten). Hij ruikt heerlijk zoet en kruidig en verandert in een soort gekleurde draaimolen zodra je hem in het water plonst. So White heb ik al eerder geprobeerd en is ook een favorietje. Hij lijkt simpel, maar is o zo heerlijk. Hij ruikt naar appeltjes en zoete parfum. Sex Bomb is nieuw voor mij en ik ben erg benieuwd. Deze ruikt een stuk zwaarder naar bloemetjes, heel vrouwelijk.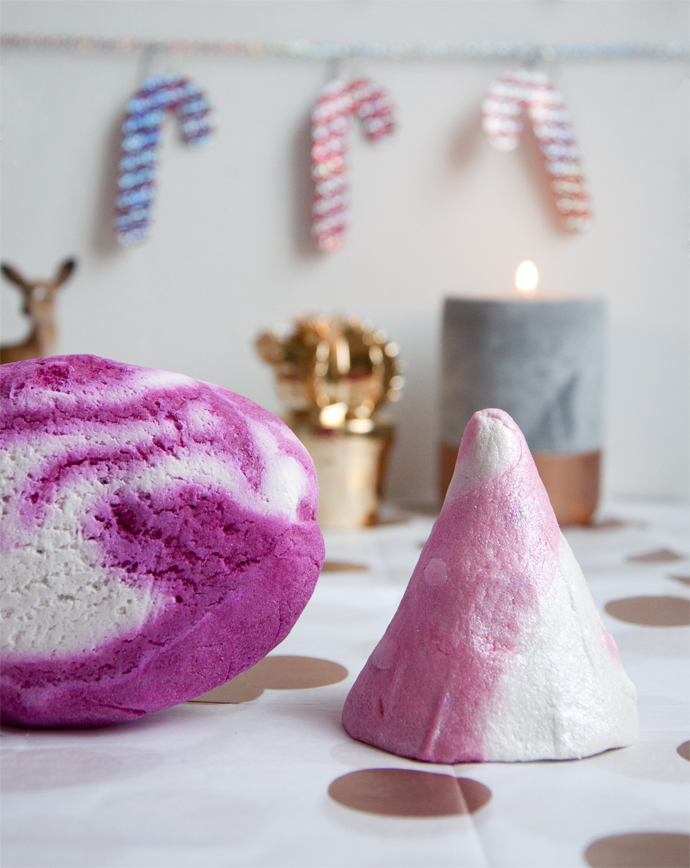 The Comforter / Candy Mountain (bubble bars)
Dit zijn twee klassiekertjes. The Comforter is het hele jaar te koop en Candy Mountain brengt het hoofd op hol van vele meisjes rond kersttijd. Beide zijn zoet en roze, maar Candy Mountain wint het fair and square als het om het-glazuur-springt-van-je-tanden-achtige-zoetigheid gaat. Voor mij persoonlijk iets te zoet (maar misschien komt dat ook omdat het bijna tien jaar geleden is dat ik een tienermeisje was). The Comforter is ook zoet, maar meer cassis-zoet in plaats van bubble-gum zoet en vind ik heel lekker. Ook is hij aan de grote kant en kun je er meerdere keren van genieten. En dat is altijd fijn. Beide zorgen overigens voor een gigantische hoeveelheid bubbles waar je een sneeuwman mee kan bouwen (geen grapje, ik heb ervaring).
Santa's Belly shower jelly / Reindeer Rock soap
Wobble wobble! Shower jelly's zijn altijd een feestje. Deze ruikt naar bessen en zit vol sterrenglitters. En alhoewel ik het geniaal bedacht vind, weet ik uit ervaring dat er een moment komt dat de jelly een beetje uit elkaar gaat vallen en wat minder fris en shiny eruit gaat zien. Het is dus aan te raden om er steeds een stukje vanaf te pulken en die te gebruiken tijdens het douchen. Ook is er weer een heerlijk stukje zeep van de partij die eruit ziet alsof ze hem uit de grotten van Lascaux hebben gehakt. De zeepjes gaan in tegenstelling tot de shower jelly's eeuwig mee. Geen grapje. Ik gebruik al een jaar een stuk Reindeer Rock zeep en hij lijkt niet kleiner te worden. Hij ruikt wederom naar rood fruit en kruiden, heerlijk!
Snow Fairy / Rose Jam / The Comforter
Naast de bath bombs zijn de showergels mijn favoriet. Ze zijn makkelijk, kleurrijk (vaak met glitters) en de douche vult zich in no time met een heerlijke geur. Ik ben geen ochtendmens, maar hiervan krijg ik 's ochtends onder de douche toch echtwel een glimlach op mijn gezicht. Rose Jam is mijn absolute favoriete douchegel (alhoewel hij wel concurrentie heeft gekregen van het groene Halloween monster Lord Of Misrule). De naam zegt het al, jam met een vleugje roos, heer-lijk. Ik deed dan ook een dansje toen ik hem in mijn doos vond. Snow Fairy is de vloeibare variant van Candy Mountain (te zoet voor mij) en The Comforter matcht zijn grote broer de bubble bar.
Five Gold Rings / Pink Flamingo (bubble bars)
Ik zei het toch? Zoveel heerlijks voor in bad! Deze twee (of nouja, eigenlijk zes in totaal) bubble bars trekken met gemak iedereen uit zijn/haar winterdip. Five Gold Rings verwijst natuurlijk naar het kerstliedje The Twelve Days Of Christmas. Briljant, want zo kun je vijf keer in een gouden bad liggen dat ruikt naar vanille en moringa. En hoe geweldig is de flamingo op een stokje? Ook deze badboy is vaker dan eens te gebruiken. Roer het roze beestje een paar keer door het water voor een bubbelbad dat ruikt naar een fruitcocktail.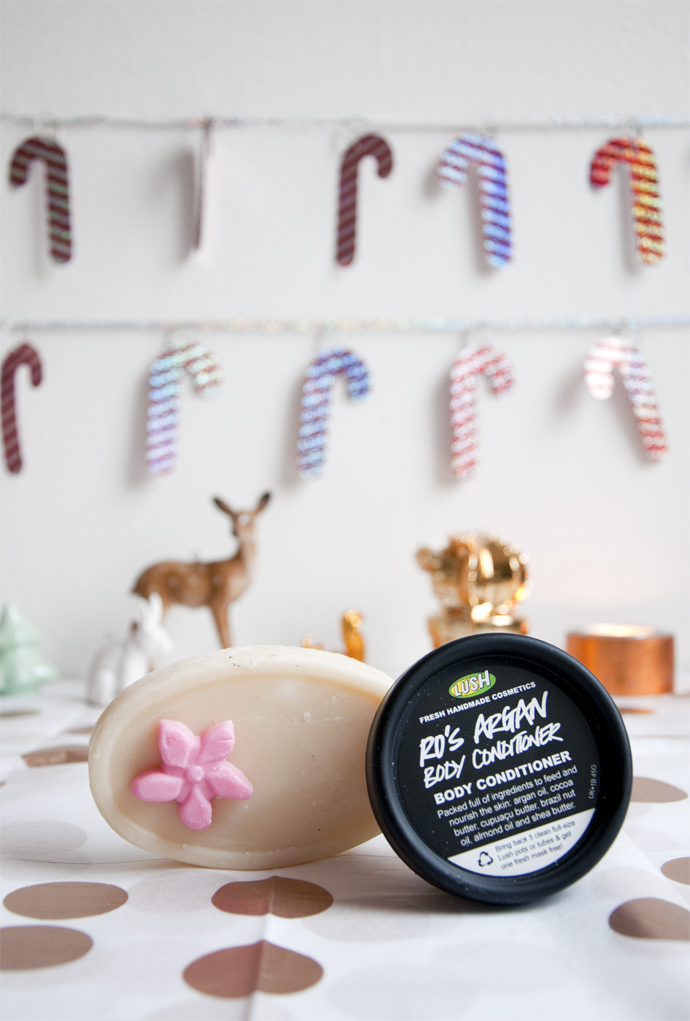 Tender Is The Night massage bar / Ro's Argan body conditioner
Na al het bubbelbad plezier is het tijd voor een beetje verzorging. Ro's Argan body conditioner ruikt warm en kruidig en gebruik je onder de douche. He? Ja echt. Denk haarconditioner, maar dan voor je lijf. De massagebar kun je gebruiken als je uit de douche/bad stapt en nog lekker warm bent. De boters in de bar smelten en geven je een lekker vettig laagje. Tender Is The Night ruikt heel bloemig (naar van die hele grote toeterbloemen, kom, hoe heten ze ook alweer).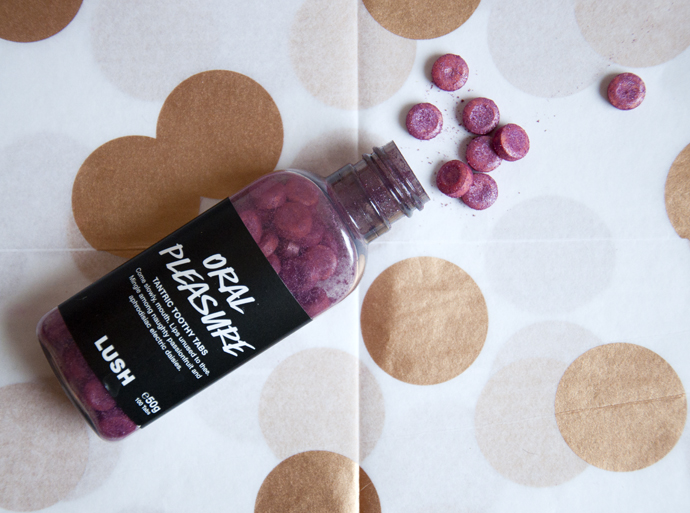 Oral Pleasure toothy tabs
'Eeeeeeh, whuuuuuut?' hoor ik jullie denken. Geloof het of niet, maar dit is tandpasta! Of nouja, het is geen pasta, maar tand-tabletjes. Stop er eentje in je mond, kauw er een beetje op en het tandenpoetsen kan beginnen. Ik zal eerlijk zijn, dit is niet voor mij. Ze smaken niet verkeerd, maar ik heb het gevoel dat ik een pilletje opeet, niet door mag slikken en tijdens het poetsen zitten er overal stukjes in mijn mond. Wat ik wel geweldig vind, is dat Lush tandpasta in de schappen heeft ZONDER microbeads (jullie weten hoe ik daarover denk). Ik poets toch liever met gewone tandpasta zonder microbeads (die ik selecteer met deze app).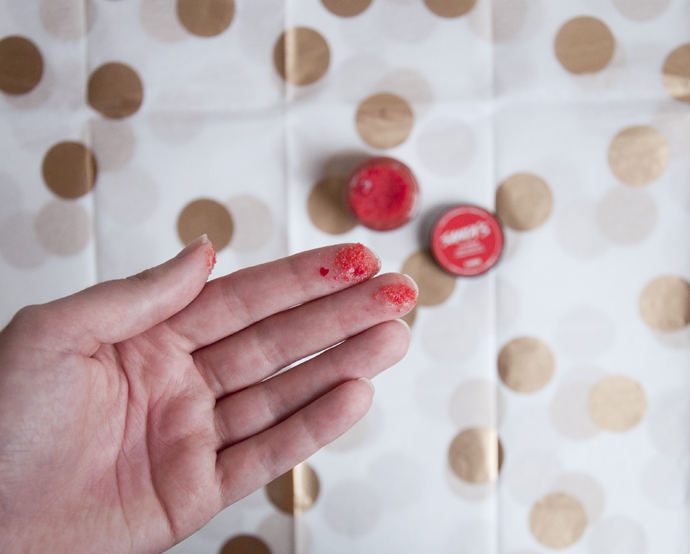 Santa's lip scrub
Deze jongen heeft al vaker in de kerscollectie gezeten, maar dit is de eerste keer dat ik hem in mijn bezit heb. Vooral in de winter heb ik snel last van droge lippen en dan is dit goedje meer dan welkom. Hij ruikt naar colasnoepjes en er zitten mini hartjes tussen (ZO SCHATTIG). And I'm not gonna lie, ik heb er al een beetje van opgegeten. Want dat kan gewoon!
♥♥♥
En dat was 'm! De doos is leeg! Wil jij je nou ook tegoed doen aan de kerstcollectie van Lush? Ga naar een winkel (is toch het leukst) of shop online. Naast alle bovenstaande producten hebben ze nog veel meer leuks. Wat dacht je van bath bombs in de vorm van beren en kerstmannetjes? Of fairy dust, een toverstaf voor in bad of smeer je lichaam in met een stukje taart. Het kan allemaal. Treat yourself!