Ik loop een klein beetje achter met verhuisvloggen (er is er wel eentje in de maak over het ontwerp van onze home office waar nog heel veel moet gebeuren) maar sommige kamers zijn wel echt gewoon af. Vandaag dus een tour door één van de schattigste plekjes in huis: Kiki's kamer!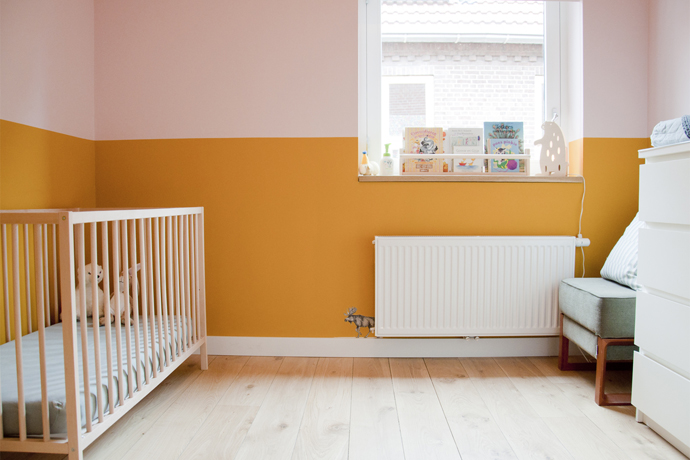 Het is een beetje een postzegeltje omdat we op het laatste moment besloten dat het verstandiger was om onze home office wat meer ruimte te geven (dat is toch de kamer waar bijna alle inkomsten vandaan komen en in Kiki's kamer wordt alleen nog maar geslapen door een tiny human).
Het was een kamer die eerder nog niet bestond. Door de grote gang boven een stuk smaller te maken en de muur van onze eigen slaapkamer te verplaatsen (én ook nog een raam, toe maar) was er opeens 'poef!' een slaapkamertje bij.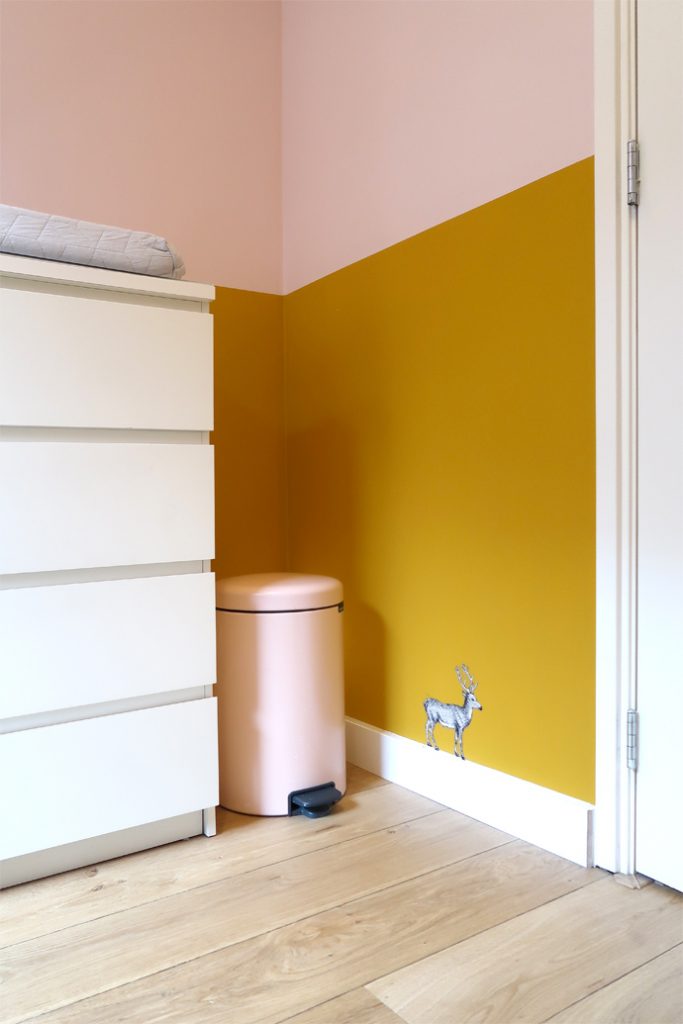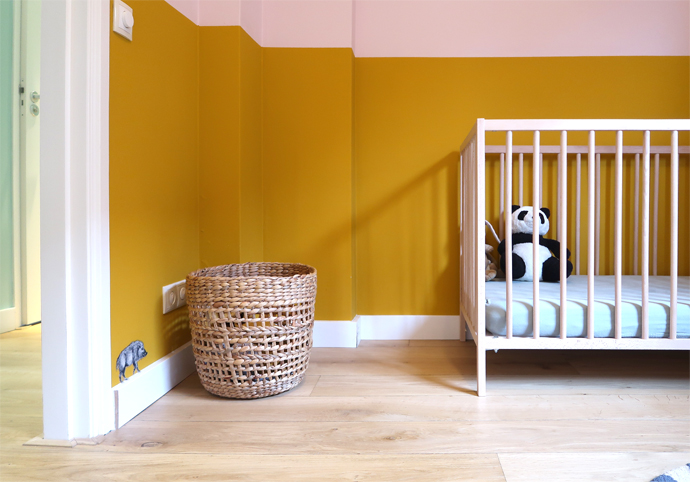 Wat erin moet, past precies en daarom voelt het er niet te krap. Een ledikant, een kledingkast en een plekje om te zitten om verhaaltjes voor te lezen. Er staat nog een wasmandje en een (wasbare) luieremmer and that's it.
Ik had tijdens het ontwerpen van deze kamer allemaal wilde fantasieën over gezellige leeshoekjes met matrasjes op de grond en schattige speelgoedmanden en ik ben bijna blij dat er gewoon geen ruimte voor was. Want een slaapkamer is voor slapen en voorlopig voor niks anders. We moeten zelfs haar voorleesboekjes verstoppen anders kan ze niet slapen (haar liefde voor boekjes is bijna obsessief…).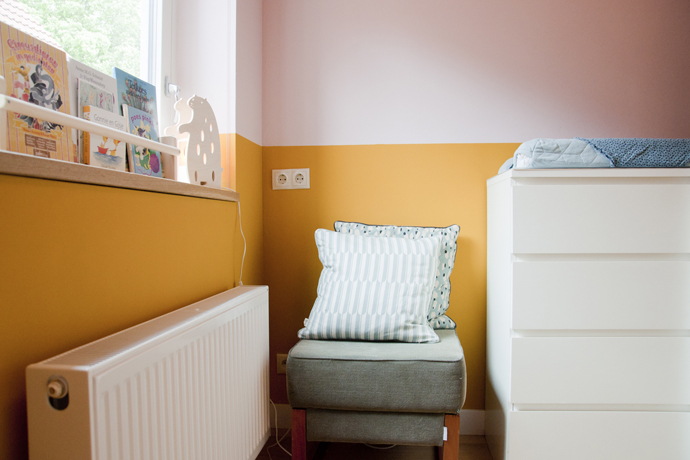 Op de muur zitten twee kleuren die we ook in de woonkamer hebben. Héél lichtroze (Poetisch van Histor) en okergeel (Verguld, ook van Histor). De ladekast is van Ikea en komt nog uit de studentenkamer van Tom (en dat is héél héél héél lang geleden). Het poefje komt van Marktplaats en gaat ook al een tijdje mee. Alleen het ledikant is nieuw (Ikea) en verder konden we onze oude meubels hergebruiken.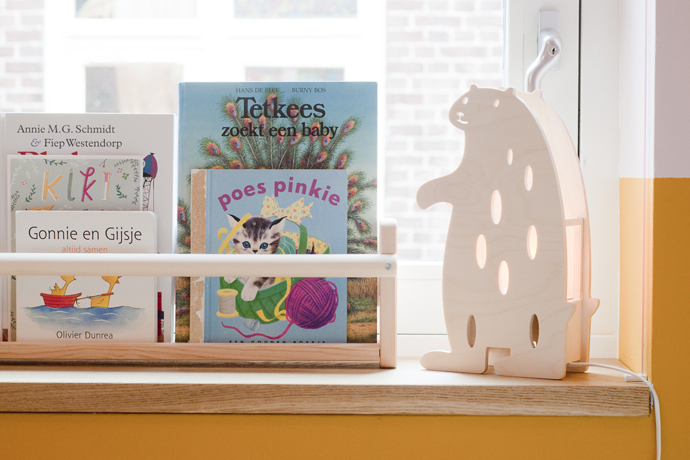 Zoals ik al zei, hebben we het raam verplaatst van onze slaapkamer (die al een JOEKEL van een raam had en Kiki had nog niks) naar Kiki's slaapkamer. Bijna alle vensterbanken in ons huis zijn van zwart steen en die vond ik helemaal voor een kinderkamer een beetje koud en kil. Daarom heb ik gevraagd om een mooi stuk eikenhout dat er precies in paste en ik ben heel blij met dat detail. Het liefst zou ik alle vensterbanken in huis zo maken, maar dat was niet zo verstandig voor het bouw budget, dus wie weet doen we dat later nog een keer.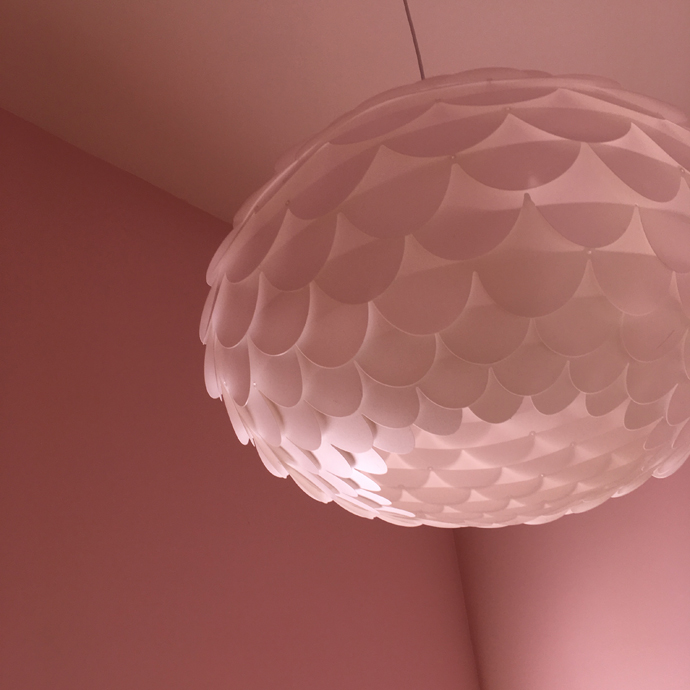 De lamp is nieuw en gigantisch. Ik ben een avondje zoet geweest met het in elkaar zetten maar het resultaat mocht er zijn. Hij geeft een mooie gloed en het is een soort moderne mega wolk die boven je hoofd zweeft. De reden dat ik voor zo'n knoeperd heb gekozen is omdat de plafonds heel hoog zijn (bijna vier meter) en dat geeft een fantastisch ruimtelijk gevoel in een kleine kamer maar door een grote lamp redelijk laag op te hangen, voelt het een stuk knusser.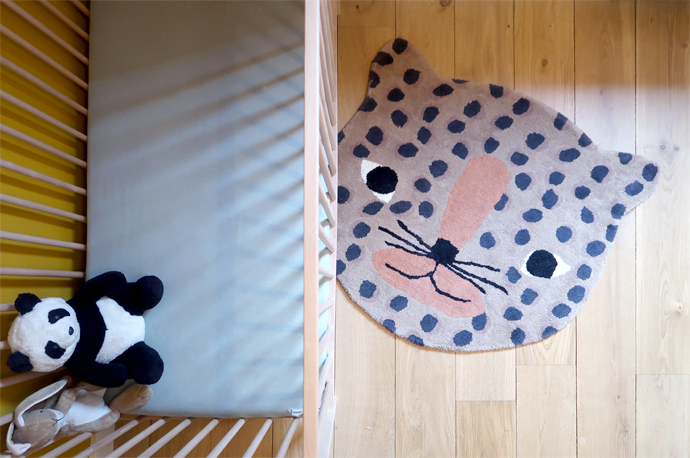 Ik heb in het eerste jaar van Kiki's leven zóveel babykots opgedweild (die creche buikgriepjes de eerste winter zijn echt NO JOKE) dat ik echt géén vloerbedekking en zelfs niet eens een kleedje in haar kamer wilde. Staat gezellig maar het was het me niet waard. Kots dweilen is al erg genoeg, maar proberen het uit de vloerbedekking te boenen, NO THANK YOU.
Maar toen het een paar maanden rustig was met Kiki's buikje en het bij verkoudheidjes bleef, heb ik toch een tof kleedje voor haar kamer geregeld. Deze is van OYOY en ik vind 'm echt awesome. En als ze wat pips oogt dan kan ik 'm als een ninja uit de weg schuiven.
Nou hoor ik sommige van jullie denken: dit is jullie forever home, jullie droomhuis waar jullie noooooit meer weg willen, maar er zit maar één ieniemini kinderkamer in. En dat klopt. Daar hebben we bewust voor gekozen. Kiki is en blijft voorlopig onze enige spruit. Maar voor het geval we van onze gedachten veranderen of er iets per ongeluks gebeurt (we zijn voorzichtige types maar soms is voorzichtig niet genoeg, baby's sometimes just happen, NO judgement) dan hebben we wel een paar creatieve oplossingen achter de hand.
Door die hoge plafonds kunnen we gelukkig de hoogte in. Een stapelbed zou makkelijk passen, je kunt er zelfs wel een stapelbed voor 3 personen in kwijt!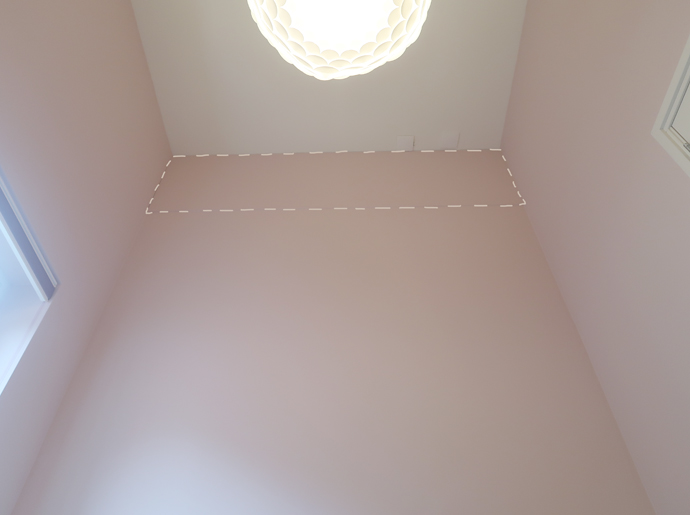 En als Kiki toch in haar up blijft (don't worry, ze heeft altijd Tetkees nog en dan ben je nooit écht alleen) dan hebben we al voorbereidende plannen voor een hoogslaper voor als ze wat ouder is. Bovenin haar kamer hebben we vlak onder het plafond ruimte vrijgehouden en daar een plaat voor geplaatst. Als we die weghalen en een hoogslaper maken dan heeft ze vlak naast haar bed dus nog opbergruimte voor een extra dekentje, een paar boekjes en een nachtlampje (er zit ook een stopcontact verstopt achter de plaat). Onder de hoogslaper kan ze een groot bureau kwijt en omdat haar ledikant dan weg kan, is er ook nog ruimte voor wat opbergruimte en wie weet een lekkere luie stoel. Het blijft een kleine ruimte maar met wat creativiteit en minimalisme is het echt een super plek om je terug te trekken.
♥♥♥
Voor zover Kiki's kamer. Op een mooie poster naast haar bed en misschien nog wat leuke kledinghaakjes na is hij helemaal af. Maar je blijft altijd klooien aan je huis, ik in ieder geval wel. Dus wie weet wat er nog aan gaat veranderen in de toekomst…