Terwijl iedereen nog druk was met Sinterklaas, zat ik al DIK in de kerstmadness. Ik wilde de drukte voor zijn én zolang mogelijk van mijn versierings genieten. En ik had natuurlijk beloofd dat ik mijn tips voor maximaal kerstdecoratieplezier met zo min mogelijk opbergruimte zou delen. En dat is vooral handig om te lezen als je nog moet beginnen met kopen en versieren…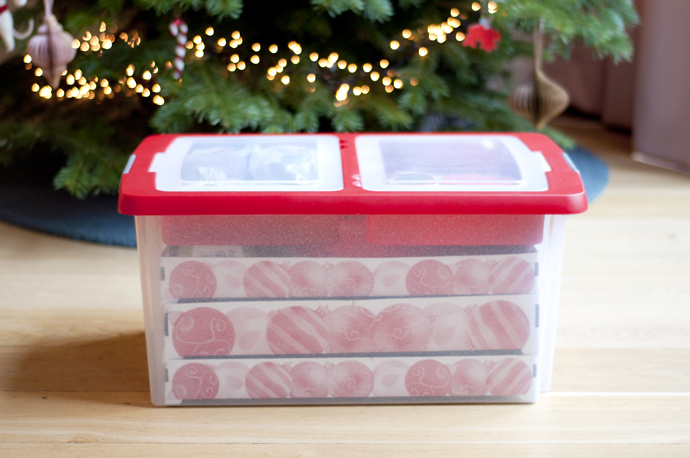 We beginnen met een beetje storage porn. Mijn doel was om enkel en alleen deze doos te vullen met kerstdeco zodat onze zolder opgeruimd en overzichtelijk zou blijven. Maar ik besloot eigenlijk al vrij snel dat dat een beetje te beperkend zou zijn. De kerstboomstandaard zou al de helft van deze doos innemen. Dus! Een doos met lampjes, de voet van de kerstboom en een paar kleine nepboompjes en deze doos voor al het kleine spul. Ik heb alle nieuwe dingen meteen opgehangen, dus of de uitdaging is gelukt weet ik nog niet, maar ik ben positief!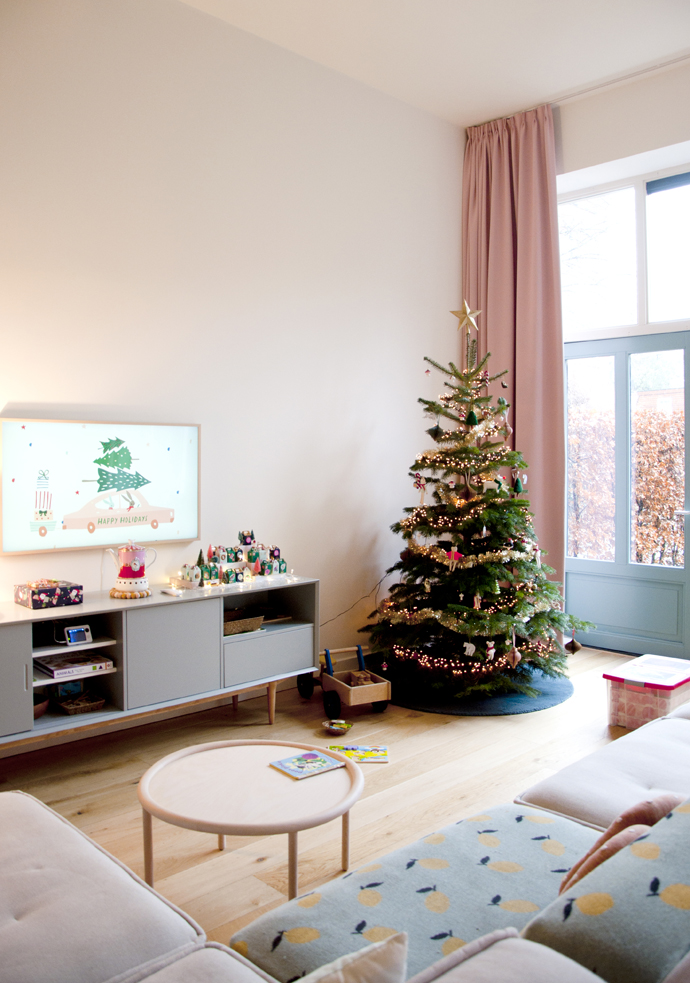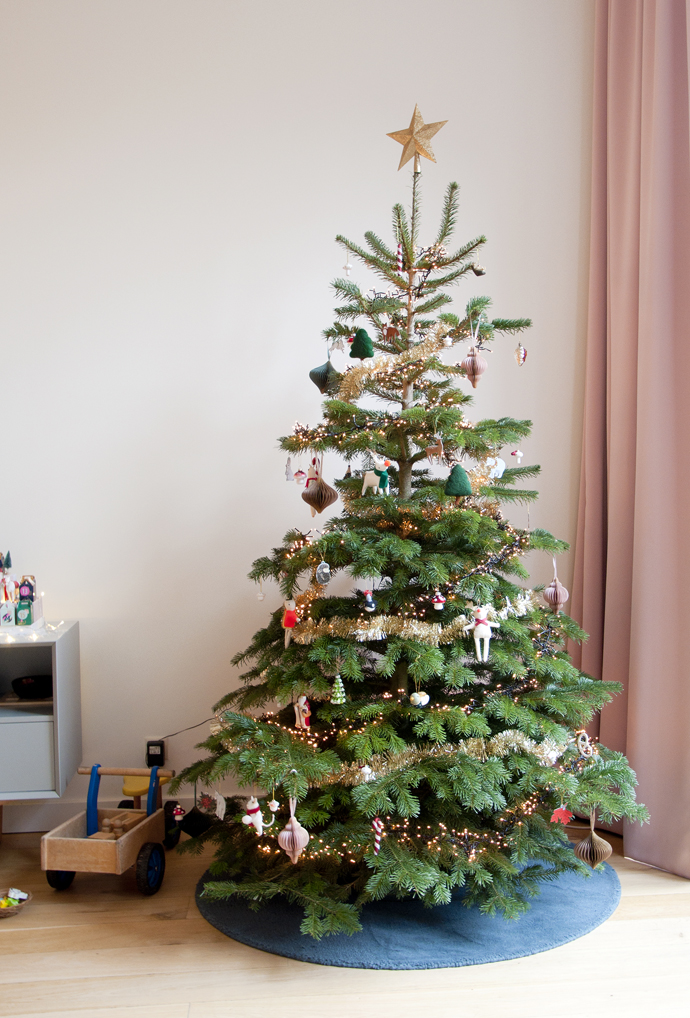 En dat kleine spul bestaat vooral uit boomdecoraties. We hebben een boom van dik twee meter (het is echt een beauty) dus daar moest best wat vulling in. In plaats van je klassieke kerstballen (die vind ik een beetje saai en ze nemen heeeel veel ruimte in) heb ik makkelijk op te bergen alternatieven gevonden die ook nog eens ADORABLE zijn: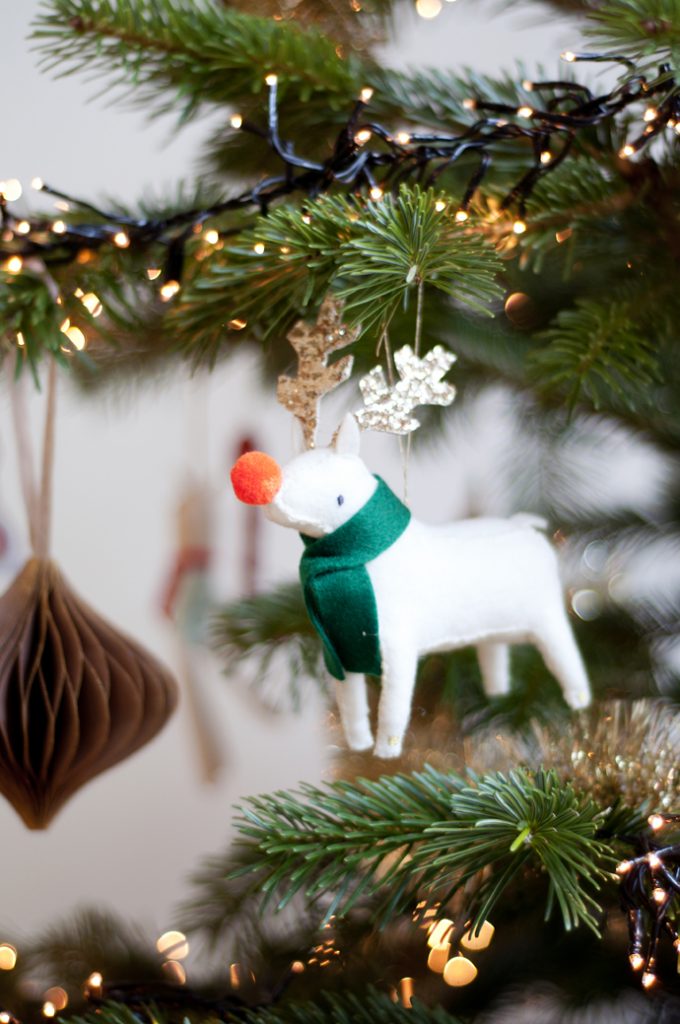 'Knuffel' decoraties die niet klein zijn maar het prima overleven als je ze bij elkaar in een zakje propt. Deze is van Meri Meri.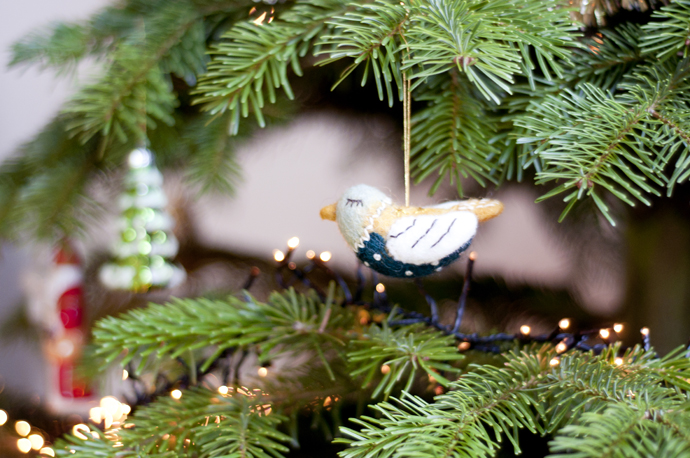 Ze hebben ook hele leuke decoraties van vilt bij Dille en Kamille. Ook handig met huisdieren en kleine kinderen. Kiki kan er zelfs mee spelen!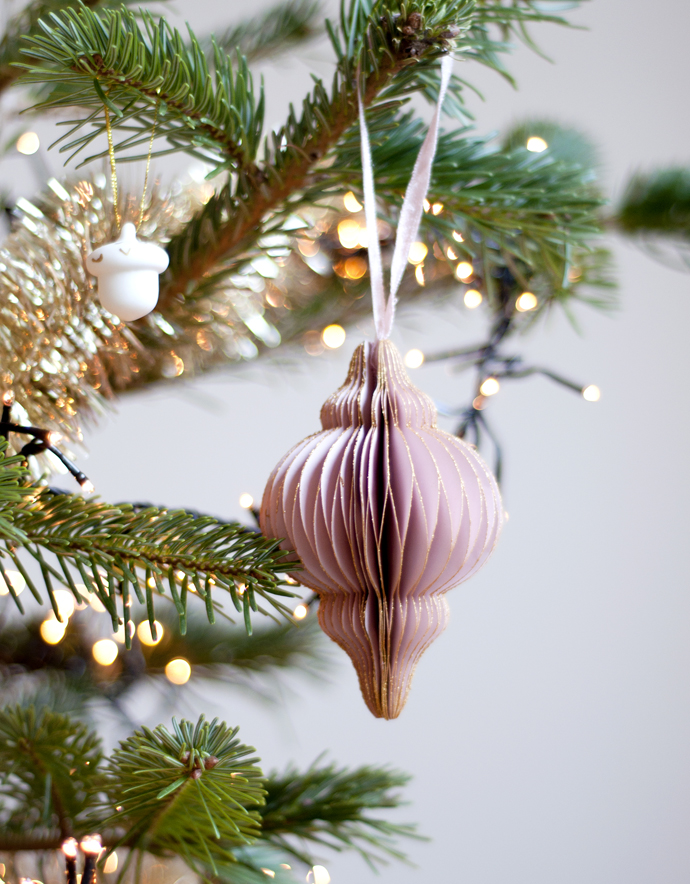 Deze honeycomb decoraties zijn ook briljant. Die klap je in en uit elkaar met een ingebouwd magneetje. Ik vond ze bij Blokker en Tuinland. Het porceleinen eikeltje dat ernaast hangt komt bij Dille en Kamille vandaan en is lekker klein.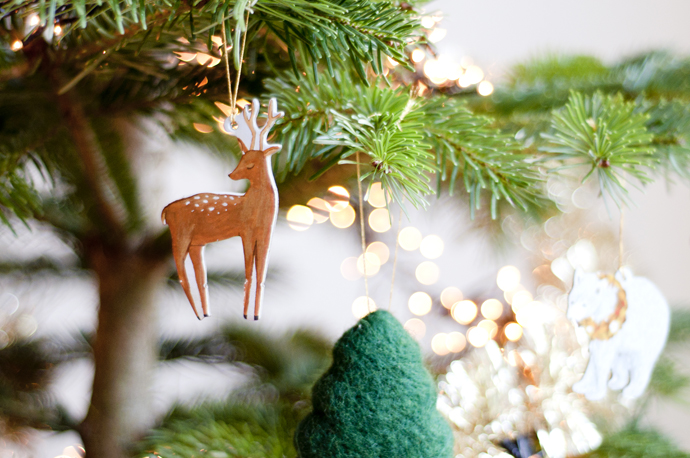 Tenslotte heb ik een paar jaar geleden van mijn moeder tien kartonnen kersthangers gekregen (geen idee waar ze vandaan komen, sorry) die enorm schattig zijn en héél fijn klein op te bergen zijn.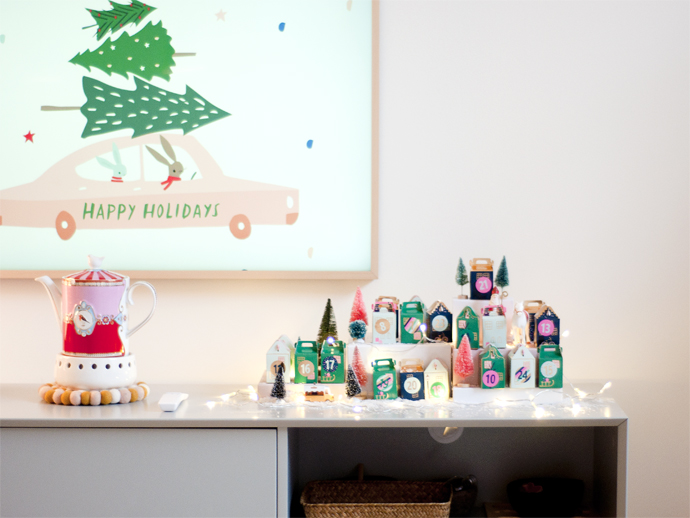 Voor wie toevallig ook zo'n mooie Samsung The Frame aan de muur heeft hangen: zoek online een paar toffe desktop wallpapers die je gratis mag downloaden en voeg ze toe aan 'mijn foto's' op de Smart Things app. Heb je opeens een mooie kerstposter aan de muur hangen! Zero opbergruimte voor nodig, yesss.
Onder de tv zie je ons kerstdorp/adventkalender van HEMA. 24 kleine kartonnen doosjes waar je een klein cadeautje in kunt stoppen. Vouwen op tot bijna niks en met een paar kleine kerstboompjes, mini lampjes en wat nepsneeuw heb je een prachtig kerstdorp gebouwd! Ok, zonder werkende ski-lift en schaatsbaan maar ik vind 'm héél gezelig.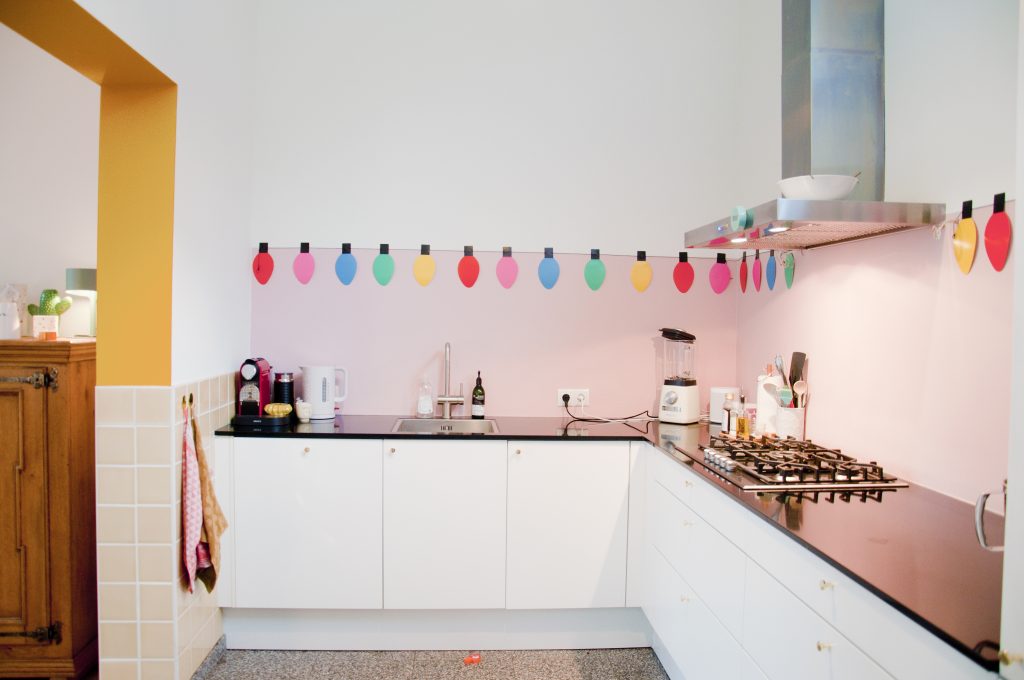 Moving on naaaaaaar slingers! Daar denk je misschien niet meteen aan met kerst maar ze zijn ge-ni-aal voor veel impact en ze vouwen heeeeeel klein op!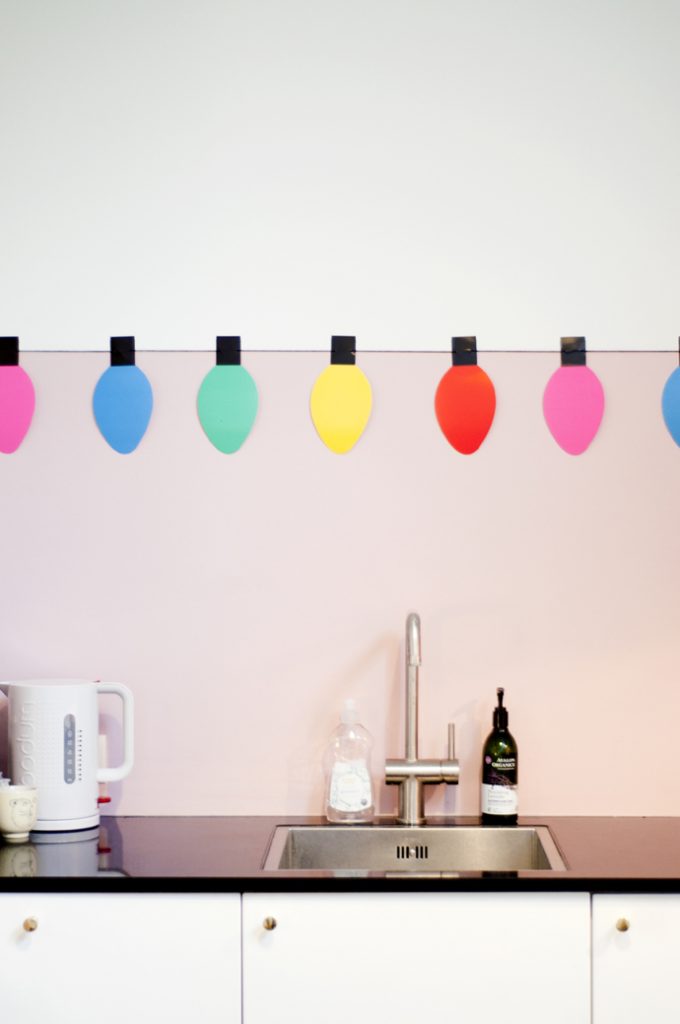 Deze XXL kerstlampjes slingers zijn van HEMA en ik vind ze zooooo tof. Ik heb ze door de hele keuken gehangen. Het zou leuk zijn met nog een sliert échte lampjes eroverheen maar daar had ik de puf niet meer voor haha.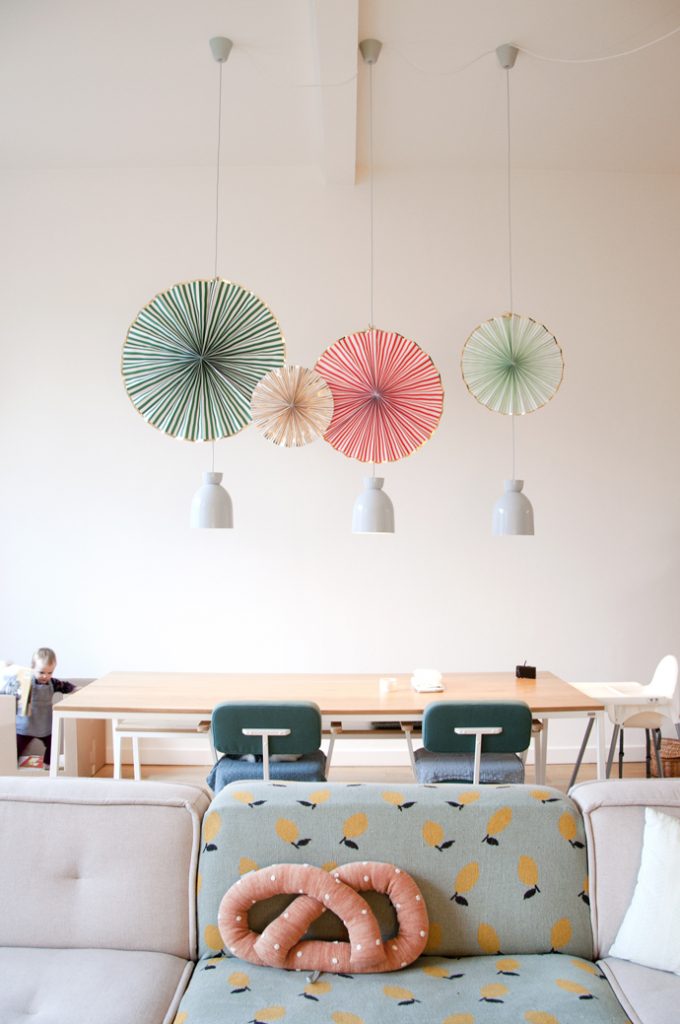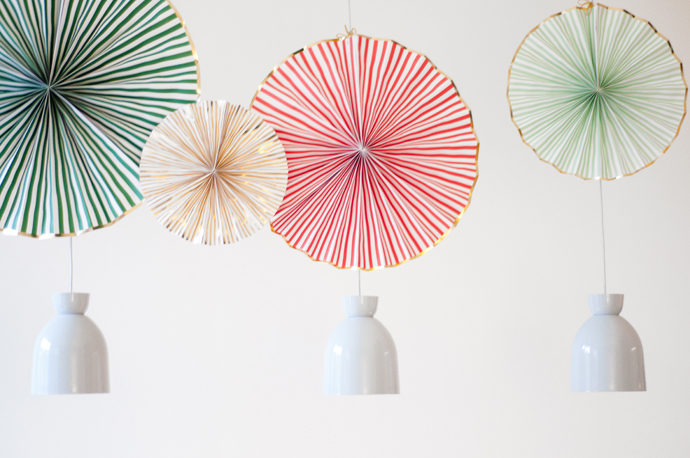 Deze MEGA waaiers zijn ook van Meri Meri en ze hebben verreweg de meeste impact voor de ruimte die ze innemen op zolder. Er blijven letterlijk vier strookjes papier over. Én ze zijn ook leuk voor verjaardagen of andere feestjes dus je hebt er dubbel zoveel plezier van!
Ik kreeg nog de tip om naar raamstickers te kijken, óók leuk. Misschien dat ik daar volgend jaar mee bezig ga. Ik vond het voor dit jaar wel weer even genoeg. En daarbij is het huis op zijn kerstigst als de gordijnen dicht zijn…
Alvast een héle fijne feestmaand gewenst, laat je niet teveel opfokken, doe rustig aan, neem de tijd om warme choco te drinken en ijsvrij te nemen!