Gastblog door Noortje – Vandaag laat ik zien hoe ik een oud dartkastje getransformeerd heb naar een blije theekast. Dit artikel is geen diy maar meer een uitgebreide before and after. Ik ga dus niet precies uitleggen wat ik heb gedaan maar ik laat wel mijn stappen zien met zo af en toe een tip tussendoor. Ik kan alvast zeggen dat ik magneettape al die tijd flink onderschat heb. I love it.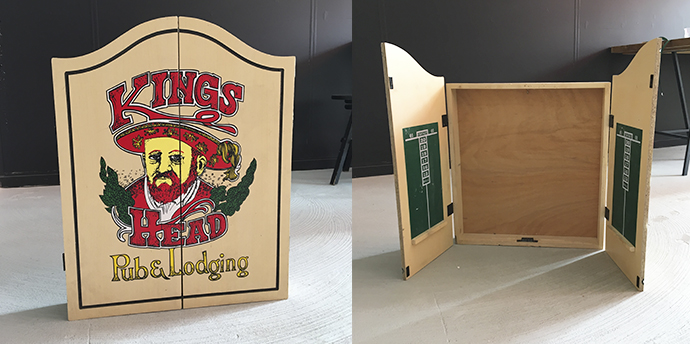 Het begon allemaal met deze dartkast die ik kreeg van mijn vriend. Ik vond het kastje veelbelovend als glazenkast maar daar bleek hij veel te smal voor. Het duurde nog wel even voordat Inge (mijn studiogenoot) en ik erop kwamen om er dan een theekast van te maken. Theeleuten die we zijn, lag dit eigenlijk heel erg voor de hand. De opdruk is hilarisch maar deze mexicaan past helaas niet in ons interieur. Er moest dus iets mee gebeuren. Sorry not sorry…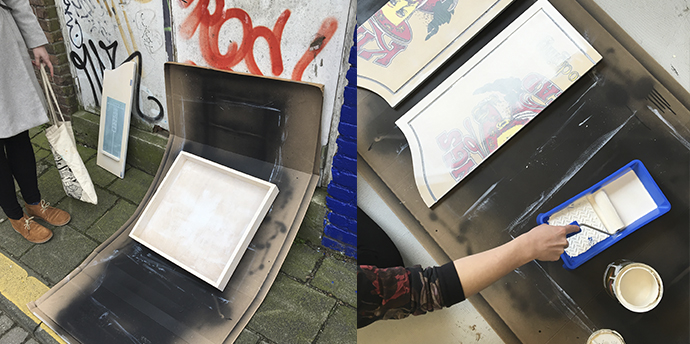 Na een dikke laag gesso besloten we voor een witte achtergrond te gaan, dan konden we daarna nog kijken wat we ermee zouden doen. Vol goede moed gingen we buiten met witte spuitverf aan de slag maar het bleek veel te hard te waaien waardoor we al snel een beetje beteuterd naar het kastje keken. Eenmaal weer terug binnen bleek ik nog een pot witte verf in de kast te hebben staan inclusief rollers. Zo konden we toch nog verder gaan!
Er gingen veel lagen overheen voordat de opdruk verdwenen was. Op het laatst heb ik de deurtjes toch nog overgespoten met de spuitverf. Toen hield de Mexicaan het eindelijk voor gezien.
Inge en ik hebben het al een tijdje over 'iets doen' met plakoogjes. Dat 'iets' werd het dartkastje. Bij HEMA vond ik een zakje vol voor €1,-. Ik wist al dat ik aan de binnenkant lint of elastiek wilde bevestigen, waarachter ik zakjes losse thee kon plaatsen. Bij Flying Tiger kwam ik regenbooglint tegen en wie kan er nou nee zeggen tegen regenbogen? Ook vond ik paarse letters waar ik het woord 'thee' van kon maken en gigantische oogjes, die moesten mee.
Ik maakte wat schetsjes en ik mat de diepte van de binnenkant. Zo kon ik zien hoe diep de theebakjes moesten worden. De indeling voor de theebakjes bedacht ik door losse theezakjes in het kastje te leggen.
Ik mat de breedte van het grootste theezakje dat ik heb en op basis daarvan maakte ik een mal met een computerprogramma. Die mal drukte ik af en legde ik telkens op een nieuw stuk papier wat ik bevestigde met een stukje tape zodat het daarna weer te verwijderen was. Met de punt van een passer markeerde ik alle punten waar lijnen samen kwamen. Vervolgens verbond ik die lijnen met een geo-driehoek en mesje en sneed ik de vorm uit. Dit herhaalde ik 15 keer met dezelfde mal. Dit is handig wanneer je spuitlijm, papier en inkt wilt besparen, zoals ik.
Ik deed alle ogen gezellig samen in een bakje en probeerde een zo random mogelijk patroon te maken. De grote ogen waren zelfklevend, voor de kleine gebruikte ik dubbelzijdige tape. Na het knippen en vouwen van 15 theebakjes kwam ik er vervolgens achter dat er dus maar plek was voor 8 bakjes. *Insert face to palm emoji* Het voordeel hiervan was wel dat ik de mooiste bakjes uit kon zoeken. Ik bevestigde het regenbooglint met secondelijm aan beide kanten. Vervolgens plakte ik er aan weerszijden nog een stevig stukje papier overheen zodat het lint recht getrokken werd en het goed zou blijven zitten.
Ik heb ook veel losse theezakjes zonder verpakking. Deze wilde ik ook kwijt in de theekast dus leek het me leuk om wolkjes te maken van blauw papier en daar de benamingen op te schrijven. Tijdens het knippen realiseerde ik me echter dat dat helemaal niet handig zou zijn in de praktijk aangezien ik dan bij elke verandering nieuwe wolkjes zou moeten maken. Gelukkig herinnerde ik me dat ik onlangs zelfklevend whiteboard folie had aangeschaft, dat moest het natuurlijk worden! Er was echter één probleem. De achtergrond van de kast is wit en de wolkjes zouden dan niet opvallen. Er zat maar één ding op, alles loshalen (ja alles zal al vastgeplakt) en de achtergrond voorzien van blauw papier. Dit deed ik door de binnenkant in te spuiten met lijmspray en de achterkant van het blauwe papier ook. Hierdoor is de hechting veel sterker. Dat heb ik geweten aangezien ik hem de eerste keer verkeerd plakte en ik hemel en aarde moest bewegen om hem weer los te krijgen… Gelukkig kwam het uiteindelijk goed.
Voor de wolkjes is het handig om het whiteboardolie eerst op een stevig stuk papier te plakken en daarna de vorm uit te knippen. Bevestig op de achterkant een stukje foamboard en plak er een stuk magneettape overheen. Plak vervolgens ook een stukje tape boven een bakje in het kastje en breng ze samen. Magneettape, I love you! Het magneettape dat ik gebruik komt van HEMA en kost €3,- per stuk.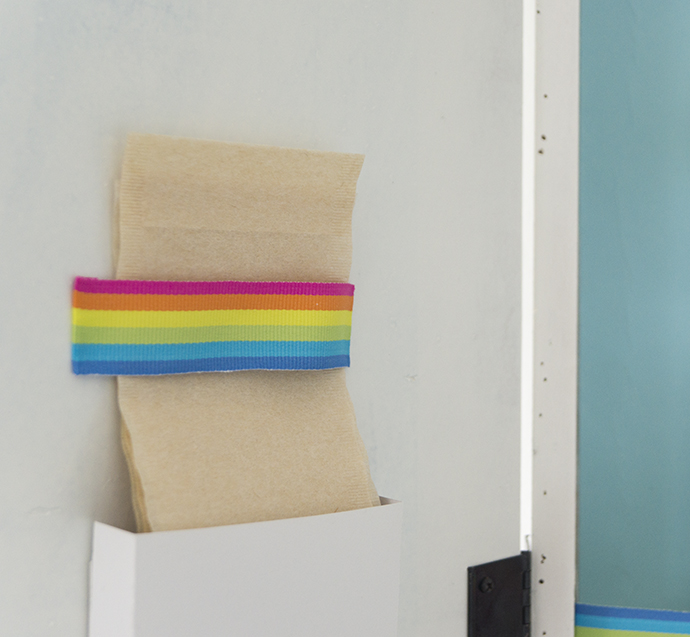 In het linkerdeurtje plaatste ik nog een extra bakje met lint voor theefilters.  Dit bakje bevestigde ik met enkel en alleen magneettape. Ik zit er nu over te denken om alle bakjes te bevestigen met magneettape. Op dit moment zitten ze vast met dubbelzijdig tape en er valt er één telkens af. Bijkomend voordeel is dat je dan de bakjes los kunt halen en op tafel kunt zetten zodat je bezoek makkelijk kan kiezen.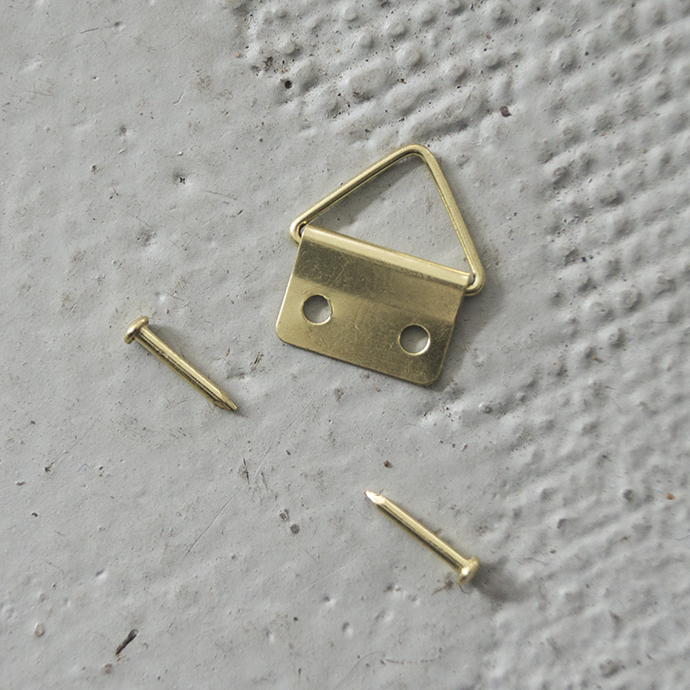 Ik haalde bij Pipoos goudkleurige, metalen haakjes. Deze bevestigde ik met een hamer zo recht mogelijk aan de achterkant van het kastje. Éen van mijn buren heeft me geholpen de plaatsing van het kastje aan de muur te bepalen door hem vast te houden. Dit tekende ik vervolgens af waarna ik de precieze hoogte bepaalde d.m.v. een rolmaat. Ik sloeg op hoop van zege twee spijkers in de muur en hing daarna de kast op. Ik zal er geen lang verhaal van maken maar dit bleek heel lastig te zijn in je eentje. Toen hij eindelijk hing, en recht (!) was ik dan ook superblij, en kapot.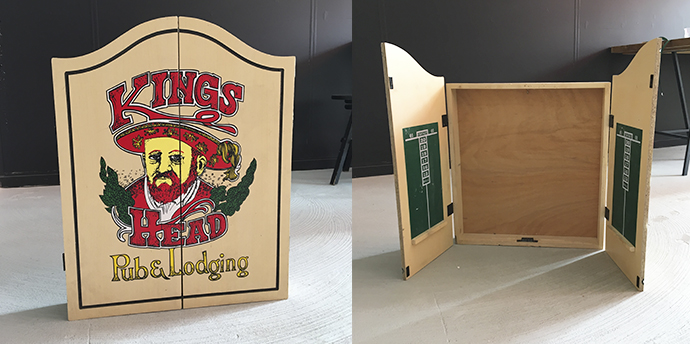 Nog één keer de before…
En de after! Ik ben zelf enorm blij met het resultaat. Aan de buitenkant is hij grappig maar nog enigszins neutraal en aan de binnenkant is hij over the top en super happy. Het is een praktisch en mooi kastje geworden, die dingen gaan niet vaak samen bij mij, dus ik ben blij dat dat een keer gelukt is. Ik hoop dat jullie het leuk vonden om te zien hoe deze make-over tot stand is gekomen, misschien dat het je inspireert om zelf een oud kastje te customizen of dat je iets hebt aan de magneettips. Tot de volgende keer!
♥♥♥
Noortje is een vrolijke illustrator uit Rotterdam met een passie voor papier en kleur. Hier op teamconfetti schrijft ze artikelen waar je iets van kan leren, maar waar je vooral vrolijk van wordt.