Eind vorig jaar kreeg ik vaak de vraag of er ook nog een Team Confetti (Mo en Tetkees) kalender 2016 zou komen. Ik heb toen helaas vaak 'nee' moeten verkopen want ik had mijn handen vol aan de Team Confetti agenda. Heel veel van jullie (gewoon meer dan 100!) hebben die agenda in bezit! En in die agenda staat vooraf aan elke maand een heel mooi overzicht met alle dagen van die maand bij elkaar. Persoonlijk vind ik dit een enorm handig iets en ik ben dan ook heel blij dat ik die erin heb gestopt. Maar om de kalender-liefhebbers toch ook tegemoet te komen, ga ik elke maand een printbare maandplanner maken. En vandaag is de maand januari aan de beurt!
De maand januari is alweer een week bezig, maar beter laat dan nooit nietwaar? Of zoals Des zou zeggen #sorrynotsorry… Die van februari gaat ruim op tijd komen, pinky promise.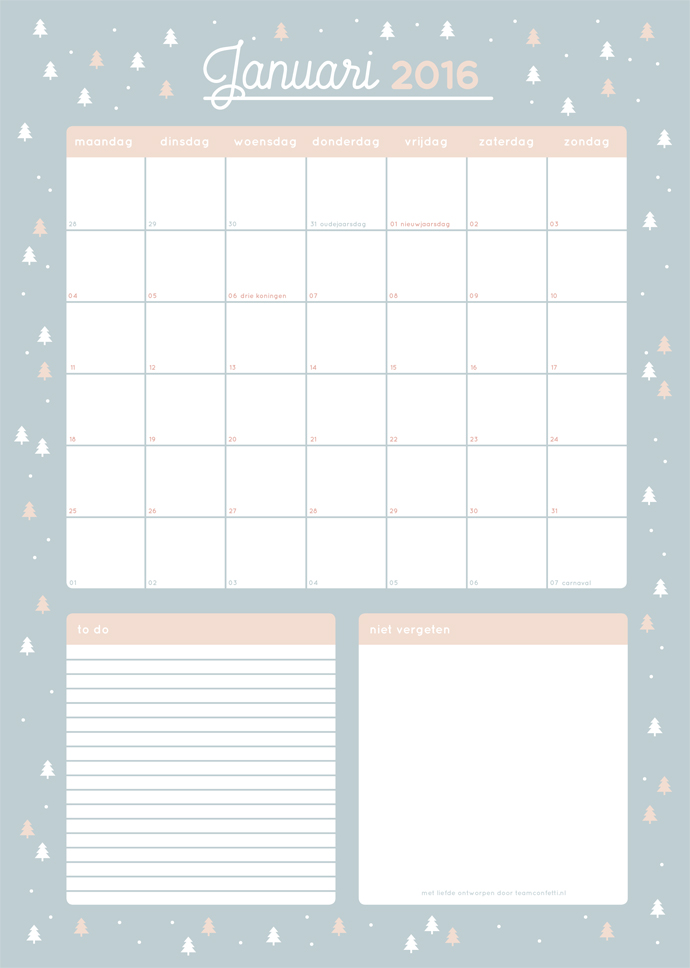 ☆☆☆ DE MAANDPLANNER JANUARI 2016 KUN JE HIER DOWNLOADEN  ☆☆☆
Deze maandplanner is gewoon A4 en heel on-economisch full-color. Nee, dat is niet zuinig, maar het is wel mooi. Ik zou zeggen: #treatyoself en gewoon nog een keer #sorrynotsorry.
Ik vind het in januari lastig vaarwel zeggen tegen kerstbomen en op het moment van maken, was het in Groningen code rood vanwege het winterweer. Dat verklaart het ontwerp, mocht iemand zich dat afvragen.
Zoals ik al zei, ben ik van plan elke maand een planner te leveren voor de maand erop. Ik moet eigenlijk een beetje voorzichtig zijn met beloftes, want alhoewel ik beloftes altijd oprecht meen, kan ik ze niet altijd waarmaken. Of er zit niemand op te wachten en dan zit ik voor de kat zijn staart maanplanners te maken.
☆☆☆
Ik hoor dus ontzettend graag of jullie a. graag elke maand een planner willen en b. wat moet het ontwerp van februari bevatten? Zal ik daar een beetje valentijn-glitter tegenaan gooien?
Hm? Roept u maar!
☆☆☆