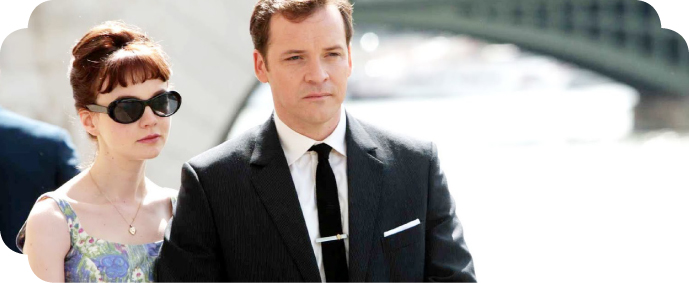 Ik heb weer vijf goede en minder goede films gekeken de afgelopen tijd. Kijk mee wat de aanraders en wat de afknappers waren:
AN EDUCATION
Deze film gaat over Jenny, een zestienjarig meisje uit Londen. Al jarenlang droomt ze (en vooral haar ouders) om te gaan studeren aan Oxford. Al haar vrije tijd gaat op aan studeren, totdat ze David tegenkomt. David is zo charmant dat hij niet alleen Jenny, maar zelfs Jenny's ouders om zijn vinger windt. Welke keuze moet ze maken en is David's charme te mooi om waar te zijn?
Prachtige film met een schitterende Carey Mulligan in de hoofdrol. De trailer zegt genoeg toch?
Cijfer: 8
(Voor wie een DeJa-Vu gevoel heeft gekregen, ik schreef ook al over deze film in mijn Favorieten van augustus.)
SAFETY NOT GUARANTEED
Drie cynische schrijvers voor een tijdschrift uit Seattle gaan op zoek naar de man die een wel heel bijzondere advertentie plaatste in de krant. De man is op zoek naar iemand die samen met hem door de tijd wil reizen. Ze vinden de man die de advertentie schreef en een van de drie journalisten doet alsof ze geïnteresseerd is in het voorstel van de man. Dit alles om een leuk artikel te kunnen schrijven.
Het verhaal van deze film sprak me enorm aan en de trailer is ontzettend uitnodigend. Misschien waren mijn verwachtingen te hoog gespannen, want hij viel me enorm tegen. Naar mijn mening is de film te over de top en de karakters zijn stuk voor stuk karikaturen waar ik geen enkele band mee kreeg. Ik vind een film pas geslaagd als hij me op de een of andere manier weet te raken en dat was hier niet het geval. Erg jammer, want met zo'n verhaal had het geweldig kunnen zijn.
Cijfer: 6
ZERO DARK THIRTY
Het verhaal over de tien jaar lang durende zoektocht naar Osama bin Laden.
Bovenal vind ik het onvoorstelbaar knap hoe ze hier een film van hebben kunnen maken. Er is zoveel gebeurd, en om dat in chronologisch volgorde te zetten met een goede spanningsopbouw en ook nog eens begrijpelijk te maken, vind ik bewonderenswaardig. Natuurlijk is het vanuit een Amerikaans perspectief en meestal moet je dat met een klein (of heel groot) korreltje zout nemen. Maar de Amerikanen zijn niet geportretteerd als enorme helden die zonder falen dit klusje hebben geklaard. Spannend en inzichtelijk.
Cijfer: 7,5
GIRL MODEL
Deze documentaire volgt twee vrouwen: Ashley, een moddellenscout die het Siberische platteland afzoekt naar potentiële jonge modellen voor haar klant in Japan. En Nadya van 13, een van de Siberische meisjes die 'ontdekt' is door Ashley en haar modellencarrière begint in haar eentje in Japan.
Ik vond deze documentaire traag en niet erg veel inzicht geven. Ik ken nu slechts het verhaal van Nadya, wat overigens een sneu verhaal was. Niet afgrijselijk, maar wel erg sneu. En waarom de camera's Ashley precies volgen is me ook een raadsel. Wat gemompel en wat geklaag is het enige wat uit haar mond komt. Ze heeft geen duidelijke reden waarom ze het werk doet en heeft geen duidelijke mening over hoe de meisjes terechtkomen. Ik denk dat er wel betere documentaires over dit onderwerp te vinden zijn.
Cijfer: 5
THE DEPARTED
Een undercover agent als spion in een Ierse bende en mol voor de Ierse bende bij de politie. Beiden proberen elkaar te ontmaskeren. Met mooie rollen van o.a. Jack Nickolson, Leonardo DiCaprio, Matt Damon en Mark Wahlberg.
Ik ben wat laat, deze film van Martin Scorsese kwam in 2006 al uit. Maar ik heb hem gezien en ik heb ervan genoten. Een ouderwetse goed-versus-kwaad verhaal. Maar wie is er goed en wie is er slecht? Altijd een mooi vraagstuk. Deze film is spannend, zit vol plotwendingen en heeft als kers op de taart ook nog romantiek. Heb je hem ook (nog steeds) niet gezien? Doen! Vanavond nog!
Cijfer: 8
Heb jij nog mooie films of documentaires gezien afgelopen tijd?