Als je onze blog vaker bezoekt, weet je misschien dat ik hardloop (alhoewel, ik noem het liever joggen…). Ik ben niet ambitieus en ik vind het niet de geweldigste activiteit op de wereld, maar bewegen is goed voor je. Hardlopen is simpel en er is een parkje naast mijn huis waar ik een rondje omheen kan rennen. Omdat ik hardloop (jog), heb ik mij ook een paar hardloopschoenen aan laten meten die niet moeders mooiste zijn…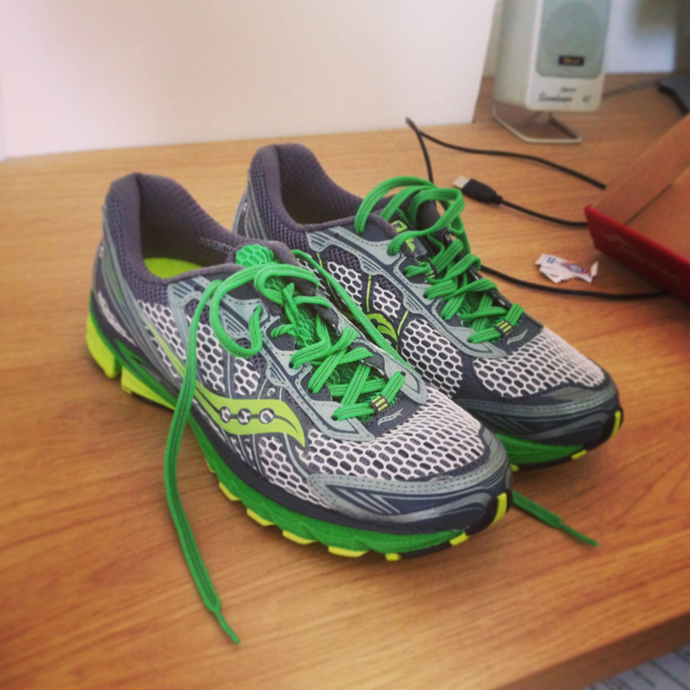 In de hardloopwinkel werd mij dit paar sterk aangeraden (PERFECT voor mijn voeten) en dat ze niet zo mooi waren, dat deed er niet toe. Ik liet me overhalen en ze gingen mee naar huis. Toegegeven, ze lopen heerlijk en het is fijn dat ze goed zijn voor mijn voetjes als ik mijn kleine rondje om het parkje ren. Maar achteraf…
Toen ik laatst een tripje naar Antwerpen plande, kwam ik erachter dat ik eigenlijk helemaal geen goede schoenen bezit waar ik een heel stuk mee kan lopen. Behalve bovenstaande groene bad boys. En dus ging ik superfashionable met mijn kikkerschoenen Antwerpen door. Spijt had ik niet, er was geen blaar te bekennen en mijn voeten waren in prima conditie toen ik terug kwam. Maar hej, ik ben een meisje en ik vroeg me af of die heerlijke loopschoentjes niet in een wat aantrekkelijkere uitvoering te krijgen waren. En hoe kun je die aantrekkelijkere schoentjes combineren met non-renkleding en er toch een beetje leuk/normaal bij lopen?
Ik schrolde door LOOKBOOK (niet te vaak doen, er staan veel te veel mooie mensen op, niet goed voor je zelfvertrouwen) en vond een paar outfits die ik zelf ook nog wel aan zou willen trekken (lees, geen crop tops, hot pants of ander weinig verhullende kledij). Check het uit: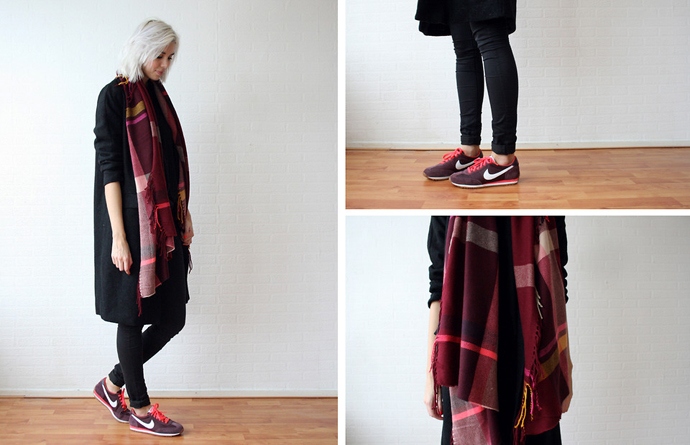 Sietske L.
Aaaah, mooie kleuren! Matcht perfect bij elkaar. Je kunt blijkbaar ook gewoon een zwarte legging/broek aantrekken en geen sokjes in je schoenen dragen. Goh.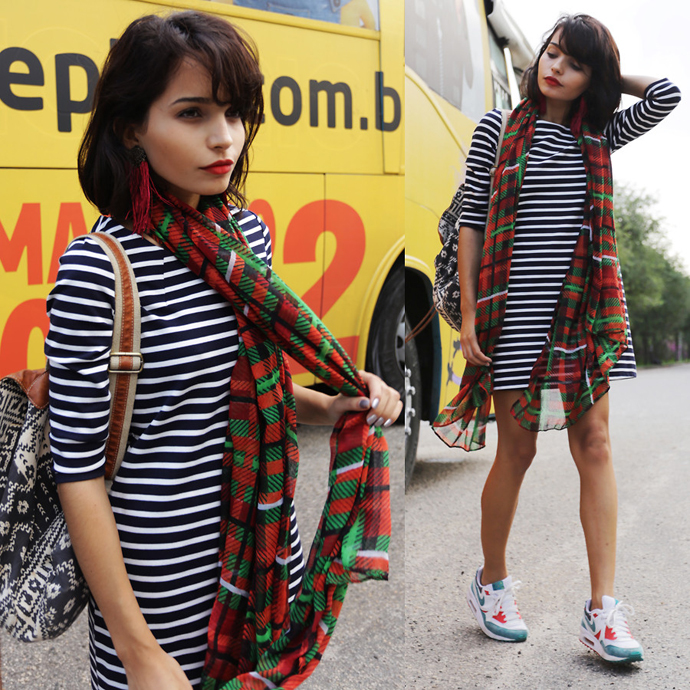 Alana Ruas.
Streepjes zijn altijd leuk! Weer geen sokjes, interessant…
Ik heb alleen niet zulke mooie bruine benen :(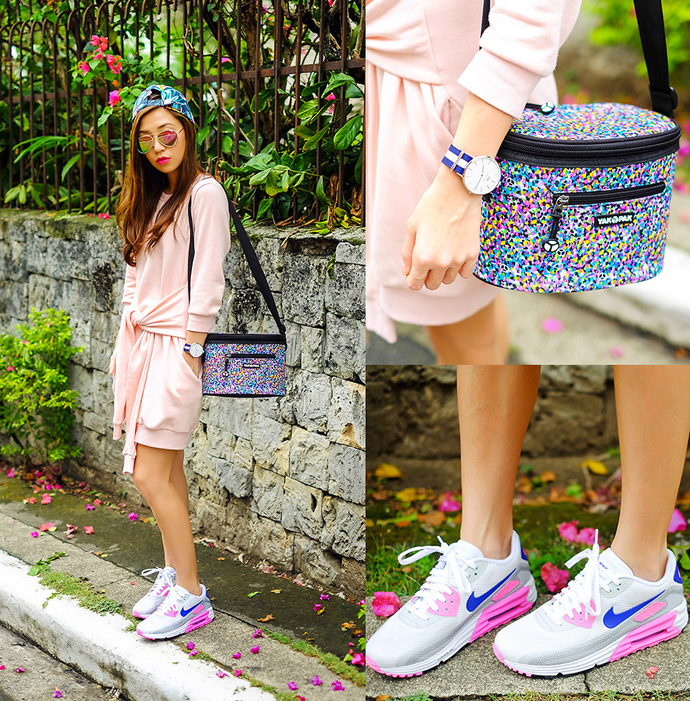 Kryz Uy.
De schoenen zijn bestwel mega groot, maar staan toch schattig! Weer geen sokken en wel bruine benen. Misschien toch maar eens de zelfbruiner uit het stof halen…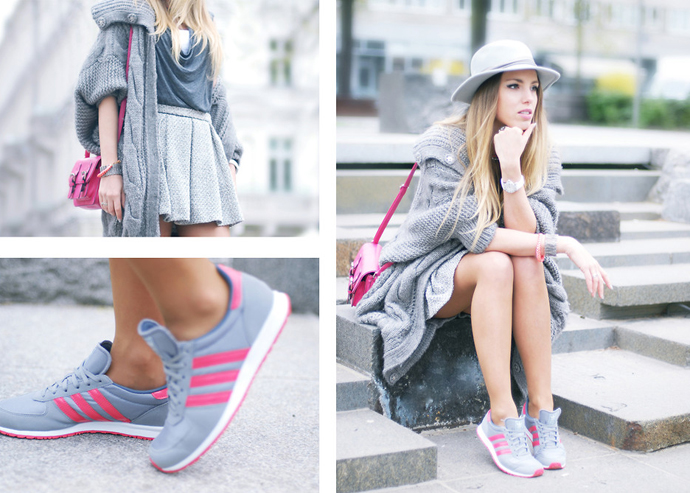 Matti Su.
Deze zijn leuk! Ik ben gek op grijs met een felle kleur. Leuk zo met dat tasje.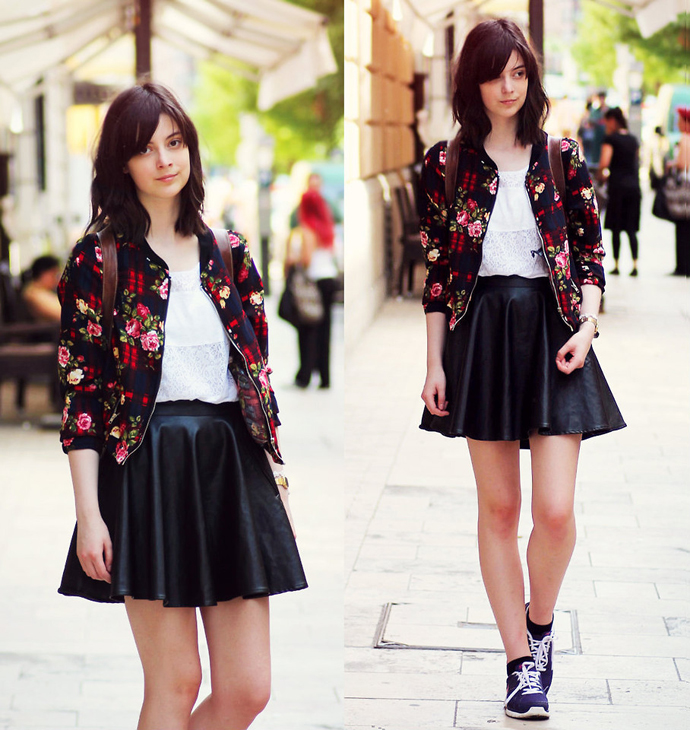 Nora A.
Simpele donkere sneakers met een heeeel laag sokje. Vrolijk en super girly (maar weer die bruine benen, pfff).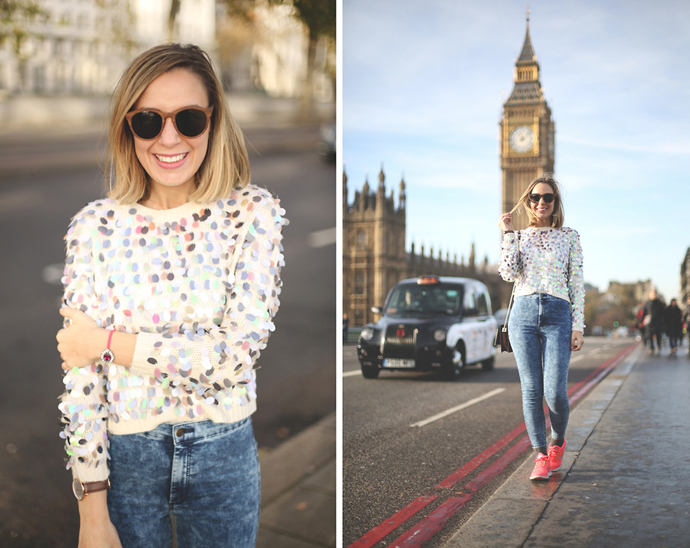 Priscila.
Ha! Geen blote benen! Gewoon een strak broekje met een glittertop en superfelle schoenen. Dit is denk ik mijn favoriete outfit (samen met de eerste). Zo zou ik graag een stel kleurrijke sportschoentjes willen dragen.
Omdat ik de queen of window-shopping ben, heb ik al een beetje op internet gespeurd welke schoentjes ik NIET voor rennen zou willen hebben, maar gewoon omdat ze er leuk uit zien en lekker lopen: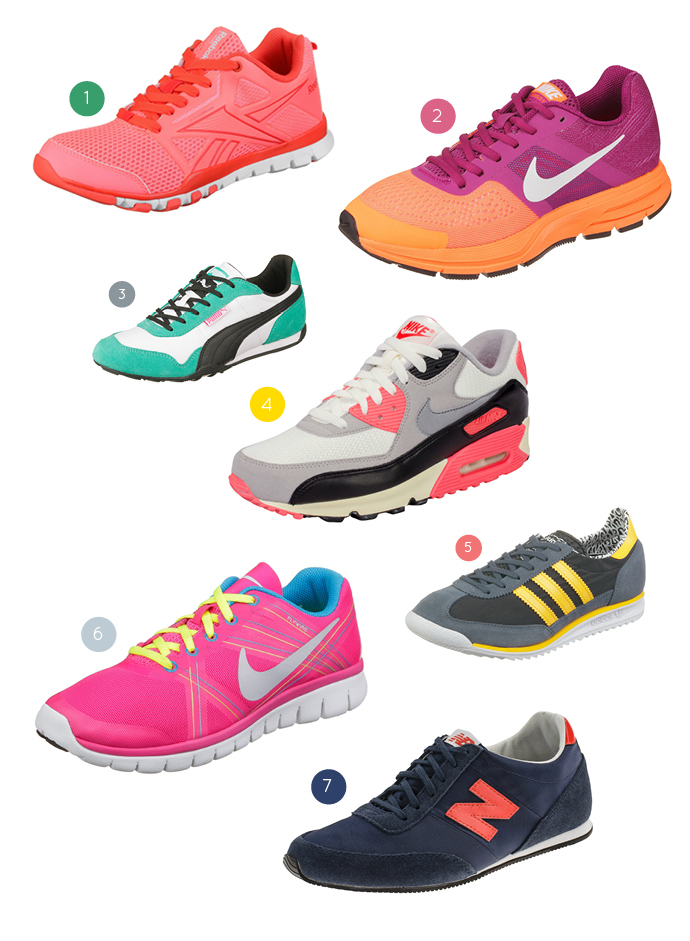 1: REEBOK Dansschoenen Sublite 3.0 W – € 76,99 / 2: NIKE Runningschoenen Wmns Air Pegasus (+) – € 109,99 / 3: PUMA Sneakers Racer – € 49,99 / 4: NIKE Air Max 90 OG sneakers – € 109,95 / 5: ADIDAS ORIGINALS Sneakers SL 72 – € 89,99 / 6: NIKE Runningschoenen Flex Speed – € 94,99 / 7: NEW BALANCE S410 B SNNR Sneaker – € 79,95.
 Al deze vrolijke schoentjes zijn te koop bij Otto.nl. Klik op het linkje van je favoriete schoen om er te komen.
Nummer 2 en nummer 7 (en alles er tussen in, hihi) zijn mijn favoriet, ik hou van neon koraal.
***
Welke outfit en schoen vind jij het mooist?