Een paar weken geleden bestelde ik een Nespresso koffiezetapparaat bij otto.nl. En we waren direct dikke vriendjes. Als mensen aan me vroegen 'hoe gaat het?' antwoordde ik met: 'Ik heb een nieuw koffiezetapparaat!!!'. En toen ik het ding een keer bij iemand anders zag staan en nog net niet voorstelde om samen een fanclub op te richten, merkte diegene op dat ik er dan maar een review over moest schrijven. Als ik er zo blij mee was. And here we are. Vandaag laat ik zien hoe dit apparaatje werkt (spoiler allert, heel erg simpel) en proef ik een exerimenteel koffietje.
Even een disclaimer trouwens: ik ben een nieuwe koffie liefhebber. Dus behalve dat ik weet dat Senseo vies is en latte's op hippe festivals lekker zijn, weet ik van niks. Maar then again, wat moet je meer weten dan het verschil tussen vies en lekker? Dat dacht ik. Let's go.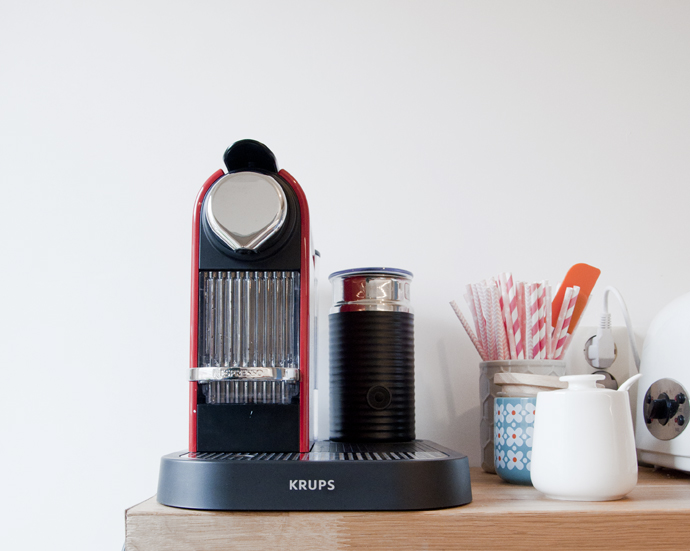 Tadaaaaaa! Dit is 'm dan. Een KRUPS New CitiZ&milk XN7305. Pffff. Waarom moeten apparaten toch zo'n idioot lange naam hebben? Hij was er alleen in rood, maar dat vind ik helemaal niet erg. Nu heb ik een koffie-ferrari in mijn keuken staan. Hij neemt ongeveer evenveel ruimte in als mijn oude Senseo, alleen ziet hij er een stuk flitsender uit. EN HIJ HEEFT EEN INGEBOUWD MELKSCHUIM-STATION! Hieronder een demo: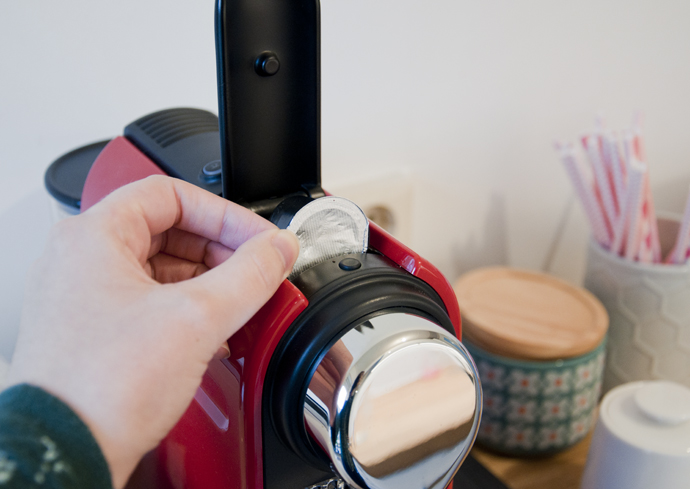 Kleppie open en er kan een nespresso cupje in. Bij de machine krijg je een proeverij aan officiële Nespresso cupjes erbij. En die zijn HEEL lekker, maar kun je niet in de supermarkt kopen. Dus totdat ik er een keer aan denk om ze te bestellen, gebruik ik biologische espresso cupjes van Jumbo. Vlak achter het klepje (dat hierboven openstaat) zitten twee knoppen: eentje voor lungo (groot kopje koffie) en eentje voor espresso (sterk mini kopje koffie). Dat zijn de standen. Je kunt dus maar één kopje koffie per keer zetten. Aangezien we maar met z'n tweeën zijn is dat ok, maar als er familie of vrienden op bezoek zijn, duurt koffiezetten wat langer. Maar het is lekker, dus who cares.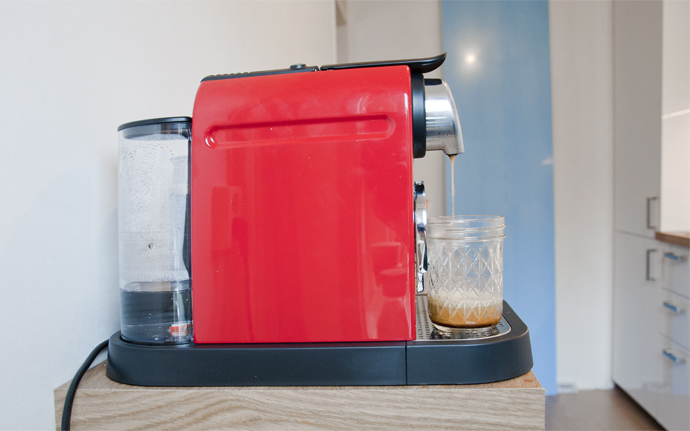 Nou en dan gaat ie. En als hij klaar is schakelt hij zichzelf na een paar minuten uit. Erg handig, want dat vergeet ik vaak (foei). Easy peasy coffee squeezy.
En dan nu the fun part: DE MELKSCHUIMER!
In de melkschuimer zit een een soort mini garde met een magneetje vast op de bodem. Giet melk tot aan het streepje, deksel erop en zet terug in het station. Druk je één keer op het knopje, dan wordt het knopje rood en verwarmt en schuimt hij de melk. Houd je het knopje een tijdje ingedrukt dan wordt het knopje blauw en schuimt hij zonder op te warmen. Waar dat voor is weet ik niet. IJskoffie? Beats me.
Nadat je de opgeklopte melk bij je koffie hebt gegoten, spoel je de melkschuimer af en aangezien de mini garde eruit kan (even spoelen, schoon) hoef je er alleen een sponsje doorheen te halen. Je zit dus niet met bergen afwas als je koffie klaar is.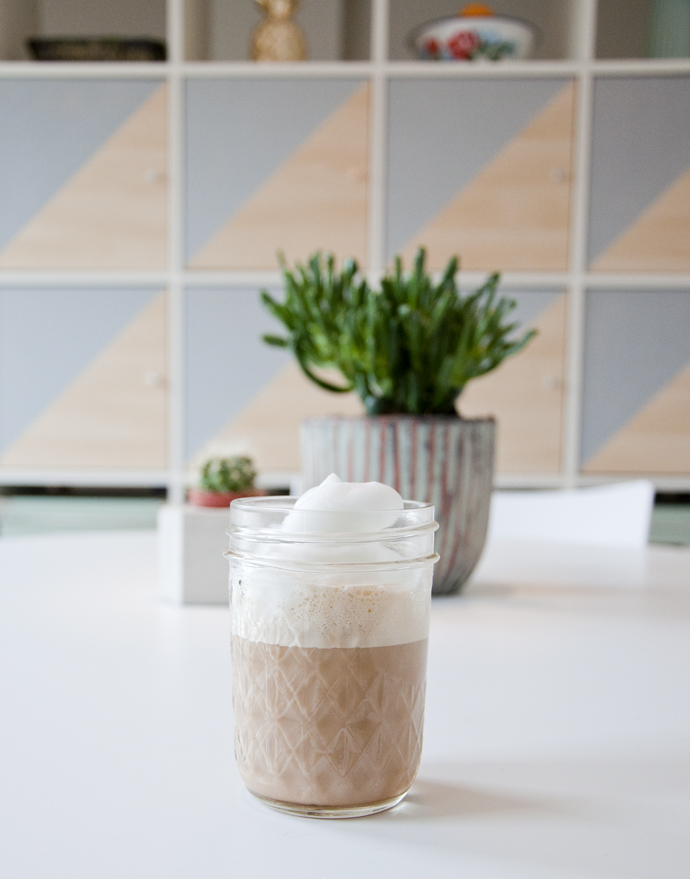 Et voila! Een prachtige latte met een schuimkraag as fluffy as hell. En inzakken ho maar. Ik drink er nu elke ochtend eentje en het voelt nog altijd als een traktatie. :D
Maar omdat ik voor dit artikel ook iets obscuurs wilde maken (en vooral proeven) speurde ik het web af voor een receptje wat ik nog niet kende. En het werd… Een Vietnamese ijskoffie! Ooit van gehoord? Nee? Ik ook niet. En ik weet niet of het een blijvertje wordt…: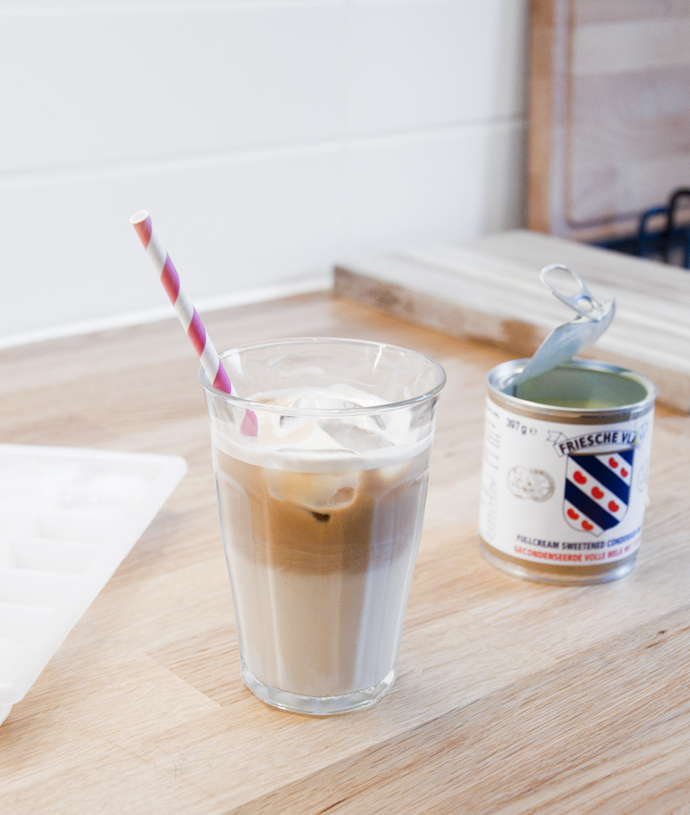 Een Vietnamese ijskoffie bleek espresso met heel veel ijsblokjes en… een scheutje gecondenseerde melk te zijn. En dat is zoet. HEEL ZOET. En dus parkeerde ik het in de koelkast om het 's avonds aan Tom te geven. Want hij is de zoetekauw van ons tweeën (hij moet moeite doen om een zakje met marsepeinen aardappeltjes niet in één keer op te eten, dus dan weet je het wel). Hij vond 'm lekker, maar volgens mij hoef ik hem er niet wakker voor te maken. We houden het dus maar bij simpele late's… ;)
★★★

★★★
Iemand anders nog exotische koffie-recepten? Deel ze vooral!