Toen ik vorige week nietsvermoedend de roltrap naar beneden nam in de V&D in Groningen had ik niet verwacht daar vervolgens met open mond rond te lopen. Naast de ontbijtjes bij La Place, heb ik er eigenlijk weinig te zoeken. Maar omdat ik wachtte op Tom, omdat we ergens een hapje zouden gaan eten en de V&D de enige winkel was die nog open was, besloot ik er een rondje doorheen te slenteren. Toen Tom me belde om te zeggen dat hij er bijna was, fluisterde ik tegen hem: 'I just hit the motherload…'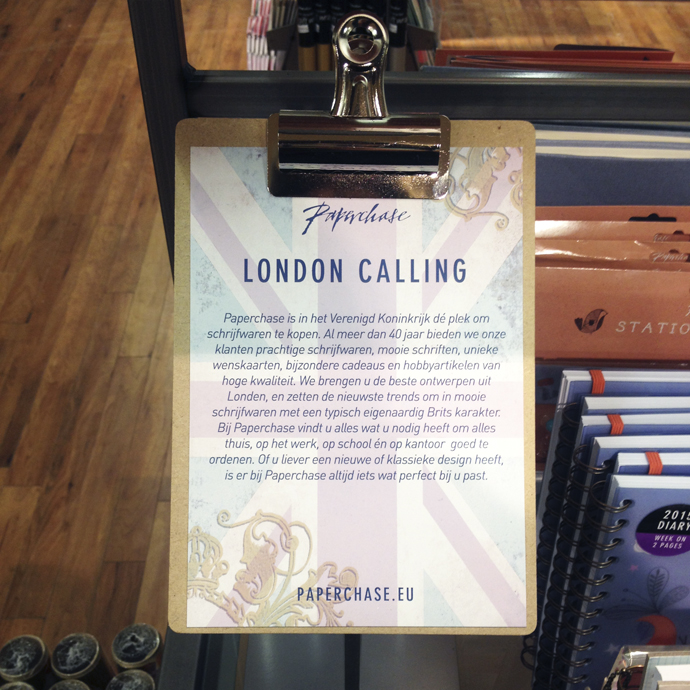 De arme schat heeft geen idee wie of wat Paperchase is, maar vroeg meteen of hij wat langzamer moest gaan fietsen zodat ik nog een paar minuten extra had om door het papierwonderland in de kelder van de V&D te dwalen. Ik heb het al eerder gezegd, maar ik zeg het graag nog heen, die Tom, dat is een blijvertje!
Ik vergaapte me aan alle cutesie hebbedingetjes en hobbelde tussen de kaartenrekken door. En toen moest ik echt gaan, terwijl ik nog lang niet alles van dichtbij had geïnspecteerd. Toen ik vandaag op de website keek van V&D was daar geen spoor te bekennen van Paperchase en zoekresultaten leverde niets op. Zo gek! Ik heb contact opgenomen met V&D voor aanvullende info, maar dat laat even op zich wachten. En daarom heb ik op de website van Paperchase een aantal items uitgezocht waarvan ik ZEKER wist dat ik ze daar heb gezien. Komt ie!
ZO SCHATTIG! Voor de twee balpennen ga ik zeker nog terug en zodra ik een functie heb verzonnen voor het vossen etuitje, gaat die ook in mijn winkelmandje (in mijn hoofd mag je pas wat kopen als je er een plekje of functie voor hebt verzonnen). Er was nog veeeeeel meer, ook heel veel rekken met kaarten, maar die weet ik niet meer uit mijn hoofd.
Er was ook nog een kerstafdeling, maar daar heb ik geen tijd voor gehad. Het is dus alleen maar te hopen dat deze items er zijn (dat weet ik dus niet zeker, maar ik MOEST ze even laten zien):
Die laatste! Mijn kitch-hart maakt een sprongetje! De V&D is opeens een plek geworden waar ik elke zaterdagmiddag te vinden ben, haha. En het is lang geleden dat dat het geval was…
Ik weet niet in welke vestigingen van V&D een Paperchase afdeling zit, op die vraag heb ik nog geen antwoord gekregen. Maar zodra ik de info heb, zal ik een edit in dit artikel stoppen. Alle Groningers kunnen in ieder geval hun papierhart ophalen in de kelder van V&D aan de Grote Markt. Veel plezier alvast!
EDIT: Er was een hele leuke comment van Manon die bij V&D in Groningen werkt op de Paperchase afdeling. De strekking was: Afgelopen maand zijn er meerdere winkels van Paperchase geopend in bijv. de V&D van Den Haag en in de V&D van Utrecht. Af en toe verandert het thema, dus dan zijn er weer nieuwe artikelen.
V&D heeft zelf inmiddels ook gereageerd op mijn vraag en bevestigd wat Manon ons eerder al had verteld. Paperchase is alleen verkrijgbaar bij V&D Utrecht, Den Haag en Groningen. Weer een reden om naar onze mooie stad te komen (of de andere twee mooie steden, haha).