This morning I woke up, feeling sick of all the chocolate eggs I ate the past two days, I had an Easter hangover…
Ik werd vanmorgen een beetje misselijk wakker. Bleek dat ik echt een beetje teveel chocolade eitjes had opgesmikkeld de afgelopen twee dagen… Vandaar dus de Easter hangover. Nog EENTJE dan, maar dan op mijn nagels. Lekker zoet en pastel en met een daadwerkelijk nagelgereedschap, in plaats van mijn eeuwige plakband…
Essie's Tart Deco.
Allereerst schilderde ik mijn nagels in twee lieve pasteltinten. De koraal/perzikkleur is Essie Tart Deco. Een snoezig lakje dat met twee laagjes dekt.
Catrice's Karl says tres chique.
En de andere kleur heb ik al een hele tijd: Karl says tres chique van Catrice. Dit lakje is al een paar jaar oud, maar doet het nog prima! Wederom twee laagjes.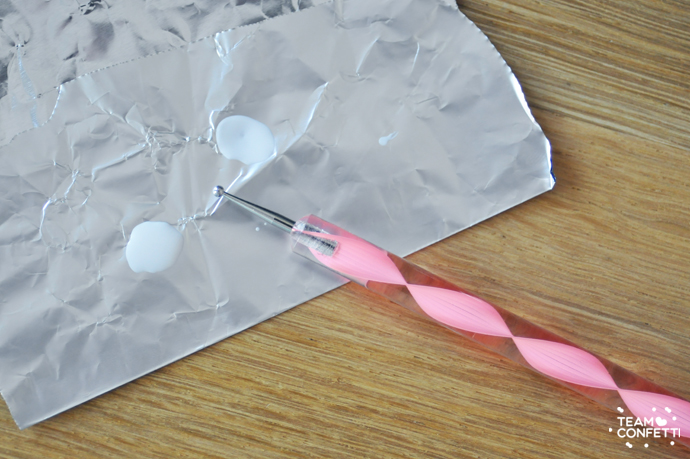 Dotting tool.
Maar dan! Een echt nailart gereedschapje: een dotting tool! Hiermee kun je heel erg makkelijk stipjes op je nagels maken (ik kreeg hem een tijd geleden van mijn moeder, ik heb geen flauw idee waar ze hem vandaan heeft, volgens mij Ebay…). Ik heb ooit een keer een sateprikker gebruikt voor stipjes, maar dat zag er niet uit, zo'n dottingtool geeft een veel mooier resultaat. Ik kan me voorstellen dat een haaknaald (lekker random) ook goed zou kunnen werken.
Ik kwastte een beetje witte nagellak op een stukje aluminium folie en doopte mijn tool erin. En toen maaktje ik kleine stipjes: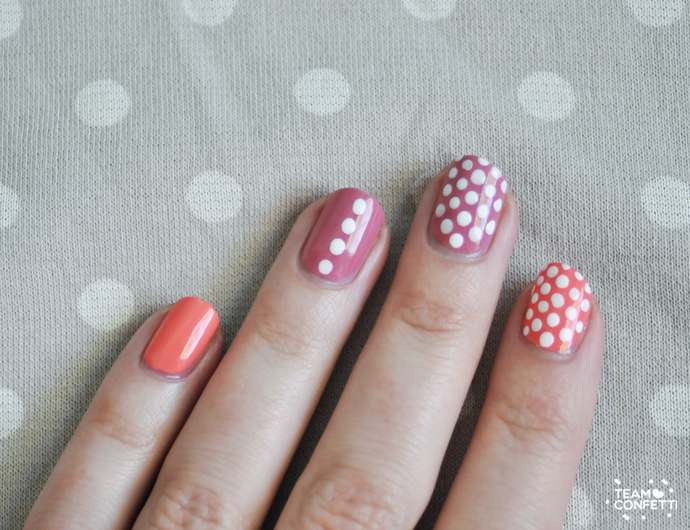 Eerst een rijtje in het midden.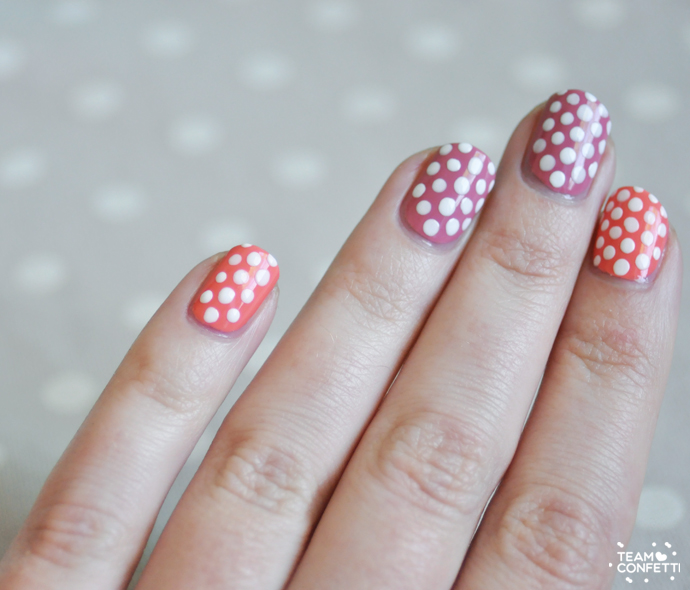 En daarna een rijtje stipjes aan de ene kant en aan de andere kant van het eerste rijtje stipjes (snap ie 'm nog?). Niet alle stipjes worden even groot of even mooi, maar in een zee van stipjes valt dat helemaal niet op.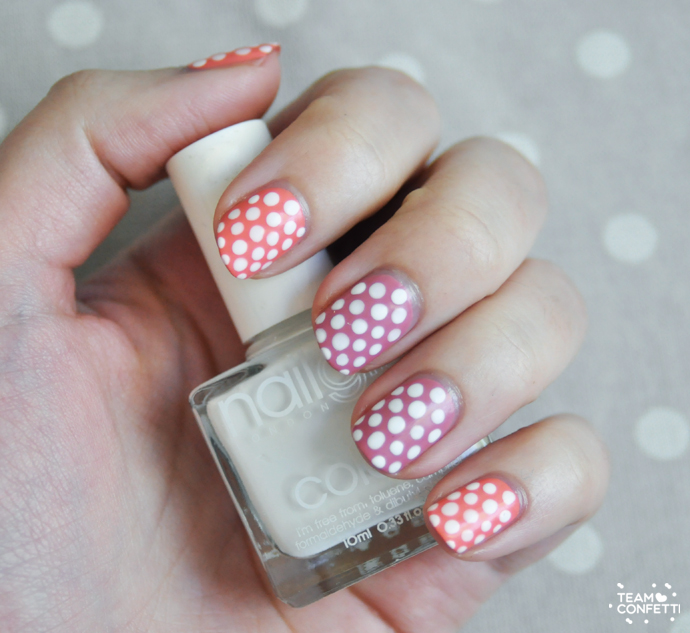 White polish by Nailgirls London.
De witte nagellak is trouwens van Nailgirls London en kreeg ik ooit in de Glossy Box UK versie. Ik heb hem nog niet vaak gebruikt, maar hiervoor was hij echt perfect. Lekker spierwit en omdat het drupjes zijn, dekt hij ook meteen goed.
Tijd om Pasen af te sluiten en uit te kijken naar de zomer!
***
De nagellakjes van Catrice kosten €2,99 en zijn o.a. verkrijgbaar bij Kruidvat en Trekpleister.
Essie nagellakken kosten €9,99 en zijn verkrijgbaar bij de meeste filialen van Etos en DA.