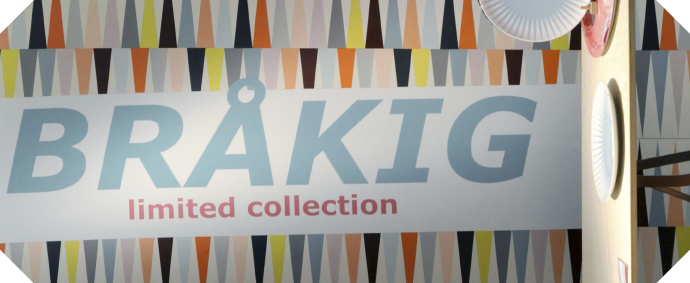 Tom and I decided to check the BRÅKIG collection of IKEA out for ourselves, and it is good!
Afgelopen zaterdag besloten Tom en ik de Ikea te bestormen en die BRÅKIG collectie waar iedereen het over heeft eens even van dichtbij te bekijken. En ja, er zitten prachtige dingen tussen!
Ik heb geprobeerd van alles een kiekje te maken, dus zelfs als je niet in de buurt van een IKEA woont (zoals wij) kun je toch even lekker window shoppen:
I made pictures of everything so you can check it out for yourself:
De printjes en kleuren zijn om van te smullen en er zitten een paar bijzondere producten bij. Zo is het volgens mij voor het eerst dat IKEA behang verkoopt. Wij zijn er dan ook meteen voor gegaan en hebben vier rollen grijs geometrisch behang mee naar huis genomen. Ook vind ik de borden die alleen aan de onderkant een printje hebben en aan de bovenkant wit zijn bijzonder. Een leuk kiekeboe effect, maar toch had ik de printjes liever aan de bovenkant gezien (of aan allebei de kanten).
Benieuwd naar prijzen? Hier vind je een overzicht.
***
Heb jij al iets gekocht uit de BRÅKIG collectie?
Did you buy something yet?