To protect our beautiful table, I have to use coasters. But geometric is always better than round…
Wij hebben een hele mooie salontafel. Echt. Maar het blad is heel gevoelig. En wij zijn dus niet hele voorzichtige mensen. En dus moet er onder elk kopje/theepot/bordje/biertje een onderzetter. Ik was de armoedige goedkope kurken onderzetters een beetje zat en besloot ze een makeover te geven!
Van tevoren wil ik er even bij zeggen dat dit de leukste en makkelijkste DIY is die ik tot nu toe heb gemaakt. Ik had alles al in huis, het was heel makkelijk, snel klaar en ik ben ontzettend blij met het resultaat. Let's do this!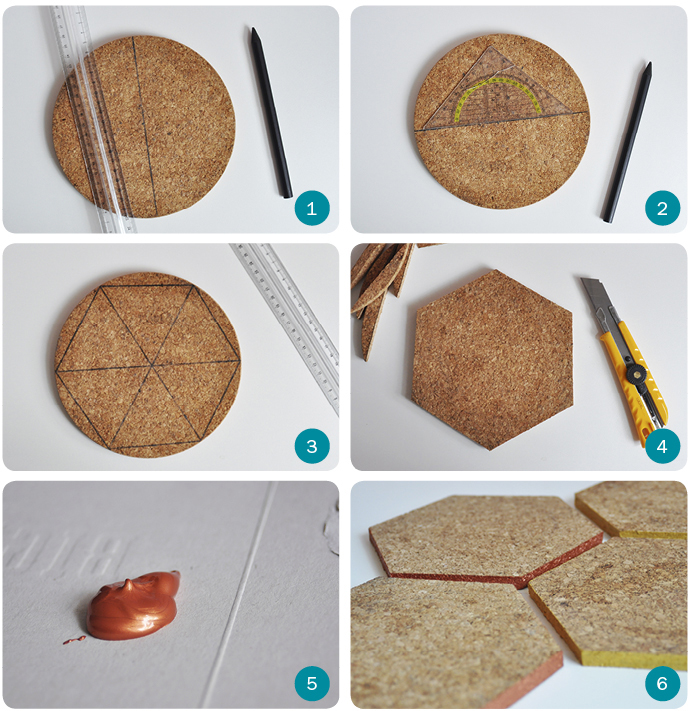 Wat je nodig hebt voor deze DIY:
Onderzetters van kurk (IKEA, €1,59 voor drie), een lineaal, een geodriehoek,  een potlood, een hobbymes, verf en een penseel.
1.  Gebruik de lineaal, de geodriehoek en het potlood om de onderzetter precies in tweeën te delen.
2. Plaats de geodriehoek strak tegen de lijn met de nul precies in het midden. Zet een stipje bij 60 graden en bij 120 graden.
3. Trek een sreep vanaf het midden richting het stipje van 60 graden en trek door naar de rand van de onderzetter. Doe dit ook met het stipje van 120 graden. Gebruik de lineaal om de strepen door te trekken naar de andere kant van de onderzetter. Verbind alle lijntjes aan de buitenkant van de onderzetter met elkaar om de hoekjes te vormen.
4. Snijd alle hoekjes eraf met het hobbymes. LET OP! Gebruik deze onderzetter als sjabloon voor de andere onderzetters VOORDAT je gaat schilderen. Anders moet je wachten totdat de verf droog is en daar hebben we natuurlijk geen geduld voor (ik niet).
5. Kies een kleur (of meerdere kleuren) verf uit en schilder de randjes. Twee laagjes is het mooist.
6. Laat ze een uurtje drogen en ze zijn klaar voor gebruik!
What you will need for this DIY:
Cork coasters (IKEA), a ruler, a protractor triangle, a pencil, a knife, paint and a paintbrush.
Instructions:
1. Divide the coaster in two.
2. Place the protractor triangle against the line with the zero in the middle of the line. With your pencil, place a dot at 6o degrees and at 120 degrees.
3. Make a line from the middle of the coaster towards the edge of the coaster, passing the 60 degree dot. Repeat with the 120 degree dot. Extend both lines towards the other side of the coaster and connect all the lines to create the geometric shape.
4. Cut all the corners off. Use this coaster as a template for the  other coasters.
5. Choose your paint.
6. Paint the edges. Apply a second coat.
Het leuke aan deze vorm is dat je er een paar bij elkaar kunt leggen en een grotere vorm kunt maken, bijvoorbeeld voor een grote pan. Of je legt ze allemaal naast elkaar op tafel, dat staat ook erg leuk! Je zou ook door kunnen gaan met snijden en ze door de helft doen, ook een grappige vorm. De mogelijkheden zijn weer eens eindeloos :D
***
Heb jij de onderzetters van IKEA ook in huis? Heb je nu zin om ze te pimpen?