It feels like autumn outside and my favourite colour in autumn is bordeaux red!
Vorige week had ik verschillende tinten groen op mijn nagels, deze week ging ik voor bordeauxrood. Het weer doet een beetje herfstig aan en dit is mijn favoriete hersftige kleur. Het is classy, staat mooi bij alles en bij iedereen. Ik trok al mijn wijnrode kleurtjes uit de kast en begon te lakken…
Even voor de duidelijkheid. Eén bordeauxrode kleur is voldoende. Ik heb vier verschillende kleuren gepakt omdat ik een zwaar nagellak probleem heb en dus meerdere tinten bordeauxrode nagellak in mijn kastje heb staan… Op deze manier gebruik ik ze toch allemaal ;) Note to self: GEEN bordeauxrode lakjes meer kopen (of krijgen).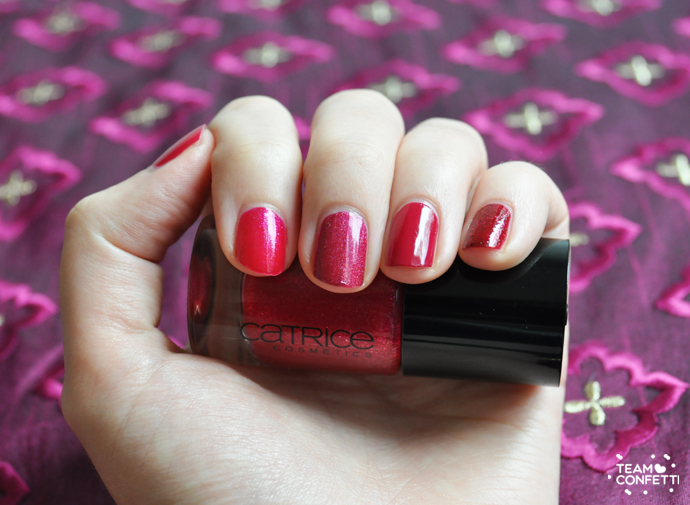 43 Miami Pink by Catrice.
De felste kleur die er tussen zit is Miami Pink van Catrice. Dit is eigenlijk gewoon kersjesroze met glitters, maar ik vond 'm wel leuk tussen de donkerrode nageltjes staan. Dit lakje schijnt een beetje door en daarom heb ik drie laagjes aangebracht. Droogt heel snel en lakt prima, dus drie laagjes vind ik niet zo'n probleem. De lakjes van Catrice blijven niet heel erg lang zitten maar ze hebben wel heel veel verschillende kleurtjes en uitvoeringen.
826 by Hema.
Op mijn middelvinger zit 826 van Hema (geen kekke naam, sorry). Er zitten hele kleine zilveren glittertjes in en dekt net niet helemaal met twee laagjes (maar daar kom je wel mee weg).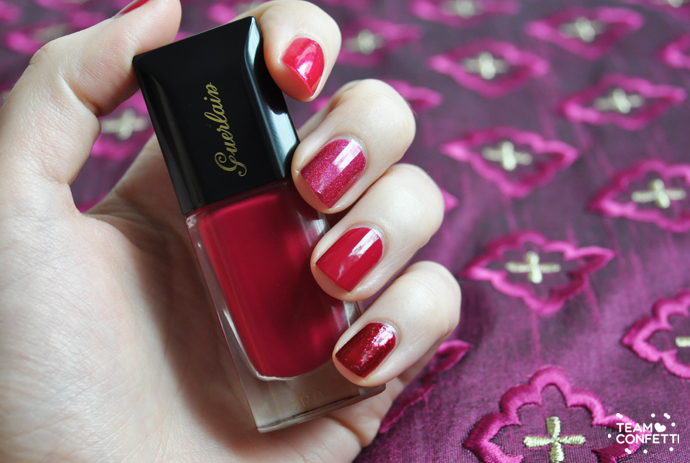 860 Madame Batifole by Guerlain.
Op mijn ringvinger zit Madame Batifole van Guerlain. Dit is het allermooiste bordeauxrode lakje dat ik heb (en ook meteen de allerduurste). Ik kreeg hem ooit in een goodiebox die ik won, zelf kopen zou ik nooit doen. Nagellak is leuk hoor, maar er bijna €25 voor neerleggen is natuurlijk van de gekke.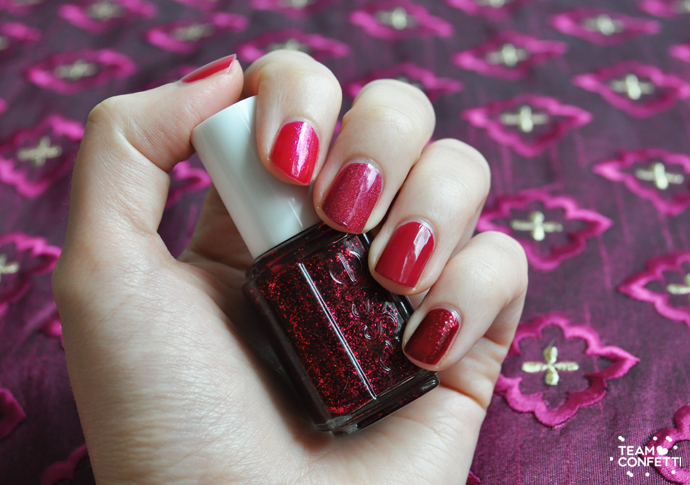 246 Leading Lady by Essie.
Laatste in de rij is Leading Lady van Essie. Rood met rode glittertjes, heel feestelijk. Eigenlijk moet er een dekkende rode kleur onder, dat staat een stuk mooier.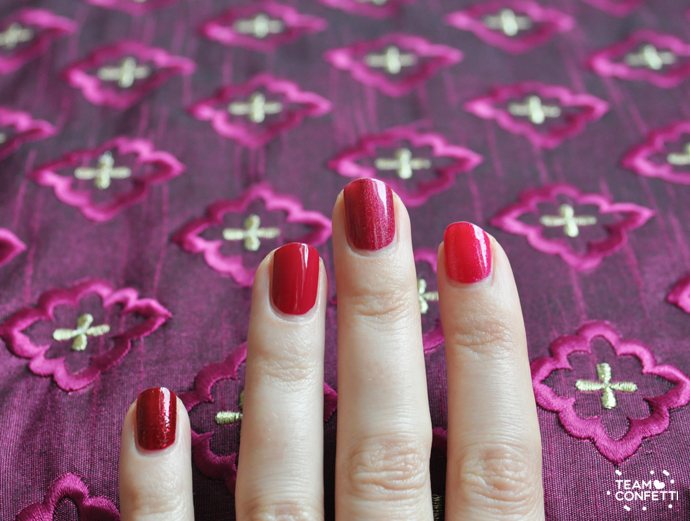 And there you have it, bordeauxrode nageltjes maar dan net even anders…
***
De nagellakjes van Catrice kosten €2,99 en zijn o.a. verkrijgbaar bij Kruidvat en Trekpleister.
Essie nagellakken kosten €9,99 en zijn verkrijgbaar bij de meeste filialen van Etos en DA. Leading Lady zat in een kerstcollectie van een paar jaar geleden, dus is helaas niet meer verkrijgbaar.
De Long Lasting Nailpolish van Hema kosten €2.50 en zijn in de winkel en online te koop.
De lakjes van Guerlain zijn te koop bij Douglas voor €23,25 (!). Madame Batifole was een limited edition.