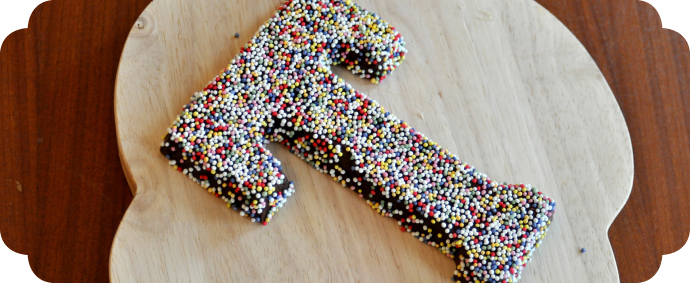 Een chocoladeletter is vaak een standaard cadeautje. Maar mij hoor je niet klagen hoor! Ze zijn heel lekker en in alle maten en smaken te verkrijgen. Het slimme van zo'n letter is, omdat hij vaak de eerste letter van je voornaam is, hij meteen persoonlijk is. Vandaag laat ik zien hoe je een chocoladeletter nóg persoonlijker kunt maken.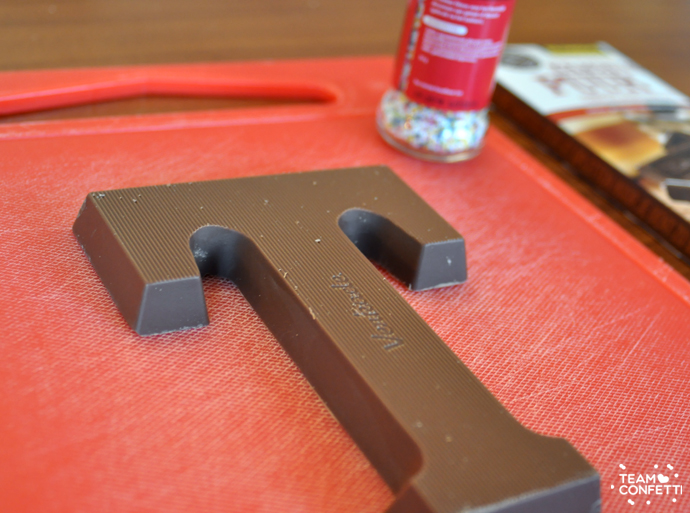 Men neme:
– Een chocoladeletter naar keuze. Ik ging voor de T van Tom.
– Een chocoladereep.
– Strooisels/versiersels naar keuze. Ik ging voor confetti sprinkles, maar bij de bak- of schepsnoepafdeling van een supermarkt kun je nog veel meer spannende dingen vinden.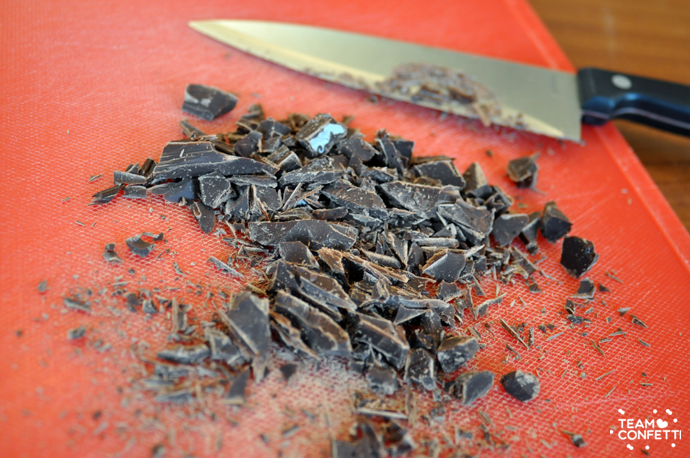 Hak een paar blokjes van de chocoladereep in kleine stukjes. Smelt deze stukjes. Dit kan in de magnetron of au bain marie: in een kommetje boven een pannetje heet water. Ik koos voor au bain marie omdat ik op die manier de chocola iets beter in de gaten kon houden en zodat ik er ook meteen in kon roeren.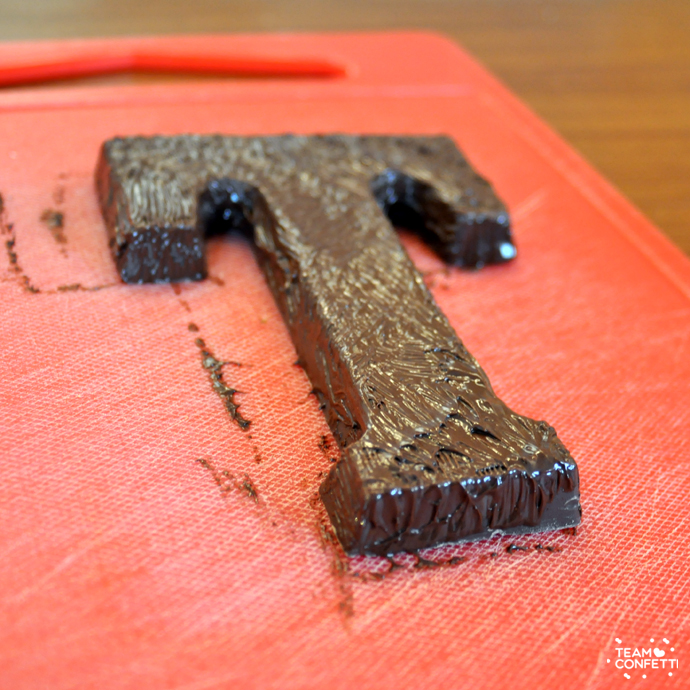 Als de chocolade gesmolten is, kun je het met een kwastje oid op je chocoladeletter smeren. Hoeft niet heel netjes. Ik was bang dat de chocolade te snel hard zou worden, maar dat viel ontzettend mee. Neem dus je tijd en klieder dat ding er helemaal onder.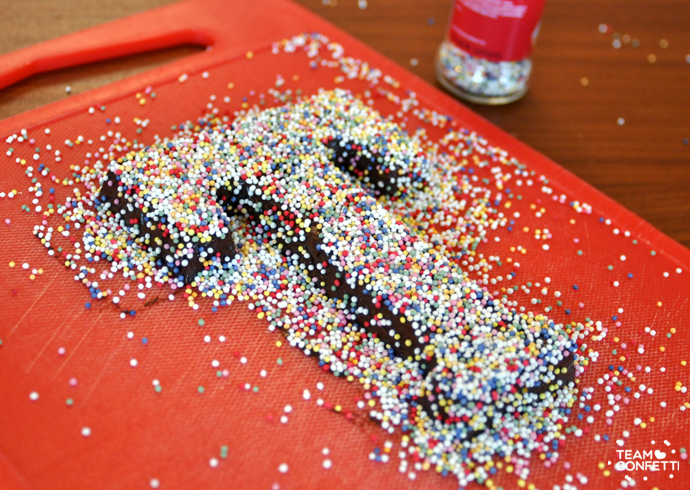 Ga vervolgens helemaal los met je versiersels. Bij mij thuis zitten nu OVERAL confetti sprinkles. Ik vond er vanmorgen nog een paar in mijn pantoffels… Maar dat maakt niet uit, leef je uit en pak later de stofzuiger erbij.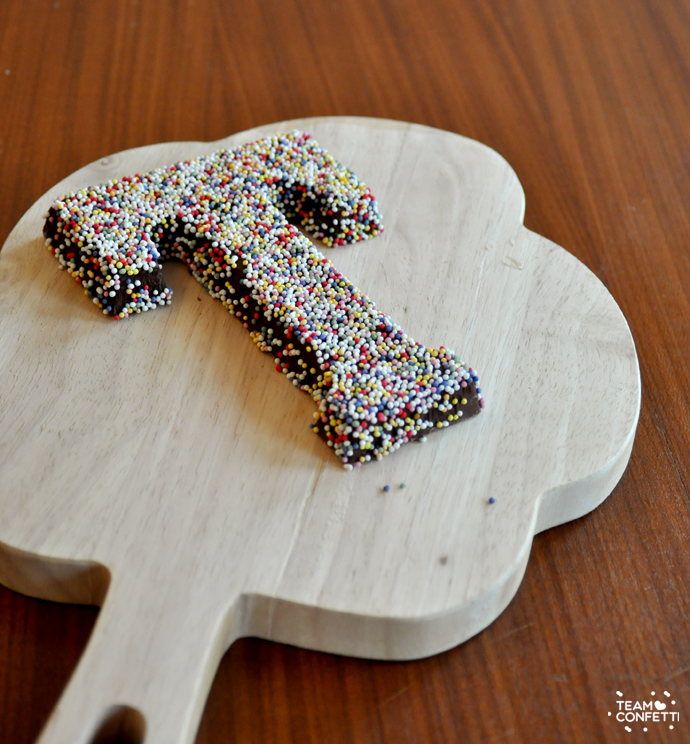 Dit is het resultaat! Omdat ik niet hard genoeg gekliederd heb en iets te voorzichtig was, zijn de confetti sprinkles niet overal blijven plakken. Hou je dus vooral niet in!
Tom was er ontzettend blij mee vond hem er prachtig uit zien (hij kijkt wel uit…).
BONUS!!!
Ik had nog wat gesmolten chocolade over en heb er iets heel willekeurigs mee gedaan: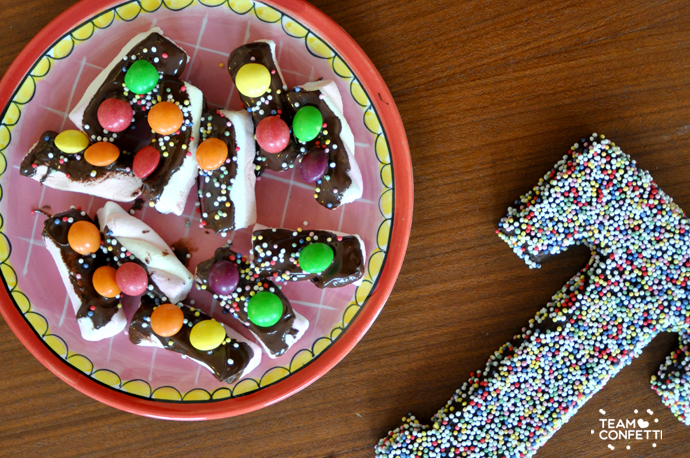 Spekjes, gedoopt in chocolade, met sprinkles en skittles erbovenop! Er zijn bij ons geen kinderen op komen dagen met Sint Maarten, dus nu zwemmen we in het snoep. Spekjes met chocola blijkt een ontzettend lekkere snack te zijn, vooral als het weer hard is geworden. Ik denk wel dat m&ms of smarties erop nog lekkerder zijn dan skittles.
Ga jij nog een chocoladeletter 'personaliseren'?